01.12.2018 | Research | Ausgabe 1/2018 Open Access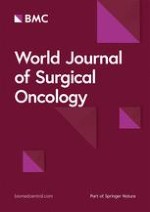 Prognostic parameters of luminal A and luminal B intrinsic breast cancer subtypes of Pakistani patients
Zeitschrift:
Autoren:

Atif Ali Hashmi, Saher Aijaz, Saadia Mehmood Khan, Raeesa Mahboob, Muhammad Irfan, Narisa Iftikhar Zafar, Mariam Nisar, Maham Siddiqui, Muhammad Muzzammil Edhi, Naveen Faridi, Amir Khan
Abstract
Background
Prognosis of breast cancer and success of therapeutic interventions largely rely on the clinico-pathologic and biological characteristics of the tumor and vary due to the heterogeneous nature of breast cancers. The aim of this study was to determine the frequency and prognostic parameters of luminal breast cancers in our population to devise targeted and personalized therapeutic regimens tailored to the needs of the loco-regional population.
Methods
A retrospective cross-sectional study including 1951 cases of primary breast cancer treated at Liaquat National Hospital Karachi was conducted during the year 2011–2016. The clinico-pathologic characteristics were observed and semiquantitative immunohistochemical analysis was performed to study the luminal subtypes A and B. The cross-tabulated statistics of the observed characteristics were performed between the two subtypes. The significance level of each characteristic was estimated utilizing the chi-square test.
Results
Luminal cancers comprised 62.7% of the total number of cases diagnosed with breast cancers in the study period. Out of these 1224 cases of luminal cancers, 845 cases (69%) were luminal B, while 379 (31%) cases were of luminal A. Luminal B cancers were significantly more common in younger age groups as compared to luminal A cancers. Comparison of the two subtypes of luminal breast cancers revealed significant differences. Luminal B cancers were associated with higher grade (26% grade III in luminal B compared to 8% in luminal A), micropapillary histology, and high frequency of nodal metastasis (54 vs. 43%).
Conclusions
Luminal B comprised the most frequent subtype of breast cancer in our study and they were found more constantly in a younger age group. Moreover, they were associated with adverse clinico-histologic parameters like higher grade and nodal metastasis. Therefore, we suggest that, despite lack of widespread availability of molecular studies in our setup, IHC-based typing should be done in every case of breast cancer to individualize therapy.