01.12.2018 | Research | Ausgabe 1/2018 Open Access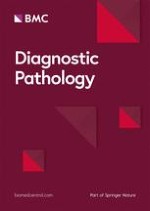 Prognostic significance of the programmed death ligand 1 expression in clear cell renal cell carcinoma and correlation with the tumor microenvironment and hypoxia-inducible factor expression
Zeitschrift:
Autoren:

Hayriye Tatli Dogan, Merve Kiran, Burak Bilgin, Aydan Kiliçarslan, Mehmet Ali Nahit Sendur, Bülent Yalçin, Arslan Ardiçoglu, Ali Fuat Atmaca, Berrak Gumuskaya
Abstract
Background
Clear cell renal cell carcinoma (ccRCC) is the most common renal malignancy. Hypoxia-inducible factors, HIF-1α and HIF-2α, are expressed in the majority of ccRCC. Targeting immune checkpoints with the blockade of PD-1 and its ligand PD-L1 reorganizes T-cell activity in tumor microenvironment and provides important antitumor responses. PD-L1 upregulation has been found to be hypoxia-inducible factor (HIF) dependent. Our aim is to demonstrate the association between PD-L1 and HIF expression and to reveal the role of PD-L1 in prognosis and its association with tumor microenvironment.
Methods
Surgical specimens from 145 patients diagnosed with ccRCC, who had undergone radical or partial nephrectomy, were retrospectively analyzed. Immunohistochemistry on tissue microarrays (TMA) was performed to demonstrate expressions of PD-L1, HIF-1α, and HIF-2α in tumor cells and PD-1, CD4, and CD8 in lymphocytes to assess lymphocyte density in tumor microenvironment.
Results
PD-L1 tumor cell expression was detected in 20/125 (13.8%) cases, which correlated with higher levels of PD-1, CD4, CD8 and HIF-2α expression. Low or high expression of HIF-1α was similar in PD-L1-positive cases. When PD-L1-positive cases were compared with negative ones, there was no significant difference in terms of prognostic factors. However, the number of WHO/ISUP grade 3–4 tumors was significantly higher in PD-L1-positive cases than in negative ones.
Conclusion
PD-L1 tumor cell expression is strongly associated with increased HIF-2α expression and presence of dense lymphocytic infiltration in ccRCCs. Our findings confirm that PD-L1 positivity is associated with high ISUP nucleolar grade. The association between PD-L1, HIF, and lymphocyte density in tumor microenvironment must be clarified and especially taken into account in combination treatment.