01.12.2014 | Original Research | Ausgabe 4/2014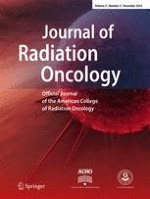 Prognostic utility of serial PET/CT imaging following stereotactic body radiation therapy (SBRT) in early stage lung cancer: a single institution experience
Zeitschrift:
Autoren:

Lane R. Rosen, Benjamin W. Fischer-Valuck, Michael Durci, Sanford R. Katz, Hsinshun Terry Wu, Amol Takalkar, Mansour Mirfakhraee, David Lillian
Wichtige Hinweise
Lane R. Rosen and Benjamin W. Fischer-Valuck contributed equally to this manuscript.
Presented in part as oral presentation at the 54th Annual Meeting of the American Society of Radiation Oncology (ASTRO) in Boston, MA, October 29, 2012 and at the Multidisciplinary Symposium in Thoracic Cancer in Chicago, IL, September 7, 2012
Abstract
Objective
This study aimed to characterize clinical outcomes with 18F-fluorodeoxyglucose positron emission tomography (FDG-PET)/computed tomography (CT) scan results at different follow-up time points following stereotactic body radiation therapy (SBRT) for early stage non-small cell lung cancer (NSCLC).
Methods
Records of 83 patients with early stage NSCLC treated with definitive SBRT were reviewed. FDG-PET/CT scans were obtained prior to treatment, at 4 months following treatment, and serially every 6 months thereafter on all surviving patients. The FDG uptake by lesions was assessed visually as the presence or absence of focal abnormal metabolic uptake compared to pretreatment lesions and termed PET-positive or PET-negative, respectively. When available, the maximum standardized uptake value (SUVmax) was calculated to assess semiquantitative values.
Results
No correlation between PET-positive or PET-negative scan at the 4-month time interval and overall survival was observed. The 3-year overall survival for those patients with a PET-negative scan at 10 months was 60.9 % versus a 3-year overall survival of 20.8 % for patients with a PET-positive scan at that same follow-up date (
P
 = 0.001; hazard ratio (HR) = 2.86, 95 % confidence interval (CI), 1.91–12.05).
Conclusion
FDG-PET/CT scans commonly remained positive with focal FDG uptake at 4 months following SBRT; however, this did not always indicate recurrent or residual disease. PET-negative scans at 10 months following SBRT correlated with increased overall survival.