01.06.2014 | Original Article | Ausgabe 6/2014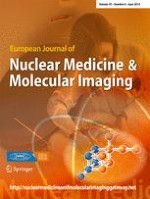 Prognostic value of 18F-DOPA PET/CT at the time of recurrence in patients affected by neuroblastoma
Autoren:

Arnoldo Piccardo, Matteo Puntoni, Egesta Lopci, Massimo Conte, Luca Foppiani, Stefania Sorrentino, Giovanni Morana, Mehrdad Naseri, Angelina Cistaro, Giampiero Villavecchia, Stefano Fanti, Alberto Garaventa
Wichtige Hinweise
Stefano Fanti and Alberto Garaventa share senior co-authorship.
Abstract
Purpose
The aim of this study was to investigate the relationship between 123I-metaiodobenzylguanidine (MIBG) scan semi-quantification and a new 18F-DOPA positron emission tomography (PET)/CT score in patients with suspected or documented neuroblastoma (NB) relapse and to assess the association between these two parameters and progression-free survival (PFS)/overall survival (OS).
Methods
We analysed 24 NB patients who had undergone 123I-MIBG and 18F-DOPA PET/CT scans at the time of suspected relapse, after applying a proper scoring system for each scan. In time-to-event analyses, the score distributions were regarded as continuous and were categorized in tertiles and medians. We used Kaplan-Meier curves and Cox proportional hazard models for PFS and OS in order to estimate the independent prognostic impact of 123I-MIBG and 18F-DOPA PET/CT scans.
Results
The
123
I-MIBG and
18
F-DOPA scores were highly and positively correlated (Spearman's rho = 0.8,
p
 < 0.001). Over a median follow-up of 14 months (range 6–82), 12 cases of disease progression and 6 deaths occurred. Multivariate Cox models showed a higher risk of disease progression [hazard ratio (HR) 17.0, 95 % confidence interval (CI) 2.7–109] in NB patients with
123
I-MIBG score > 3 (3rd tertile) and an even higher risk (HR:37.2, 95 % CI 2.4–574) in those with
18
F-DOPA whole-body metabolic burden (WBMB) >7.5 (median), after adjustment for all main clinical/pathological factors considered. Kaplan-Meier analyses showed a significant association with OS (log-rank
p
 = 0.01 and
p
 = 0.03 for
123
I-MIBG and
18
F-DOPA WBMB, respectively).
Conclusion
Our results confirm the good agreement between 18F-DOPA PET/CT and 123I-MIBG scan in patients affected by NB relapse. In time-to-event analyses, 123I-MIBG scan and 18F-DOPA PET/CT scores were independently and significantly associated with disease progression.