01.12.2018 | Research article | Ausgabe 1/2018 Open Access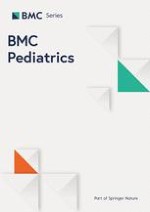 Prognostic value of early, conventional proton magnetic resonance spectroscopy in cooled asphyxiated infants
Zeitschrift:
Autoren:

Hajnalka Barta, Agnes Jermendy, Marton Kolossvary, Lajos R. Kozak, Andrea Lakatos, Unoke Meder, Miklos Szabo, Gabor Rudas
Wichtige Hinweise
Electronic supplementary material
Miklos Szabo and Gabor Rudas contributed equally to this work.
Abstract
Background
Neonatal hypoxic-ischemic encephalopathy (HIE) commonly leads to neurodevelopmental impairment, raising the need for prognostic tools which may guide future therapies in time. Prognostic value of proton MR spectroscopy (H-MRS) between 1 and 46 days of age has been extensively studied; however, the reproducibility and generalizability of these methods are controversial in a general clinical setting. Therefore, we investigated the prognostic performance of conventional H-MRS during first 96 postnatal hours in hypothermia-treated asphyxiated neonates.
Methods
Fifty-one consecutive hypothermia-treated HIE neonates were examined by H-MRS at three echo-times (TE = 35, 144, 288 ms) between 6 and 96 h of age, depending on clinical stability. Patients were divided into favorable (
n
 = 35) and unfavorable (
n
 = 16) outcome groups based on psychomotor and mental developmental index (PDI and MDI, Bayley Scales of Infant Development II) scores (≥ 70 versus < 70 or death, respectively), assessed at 18–26 months of age. Associations between 36 routinely measured metabolite ratios and outcome were studied. Age-dependency of metabolite ratios in whole patient population was assessed. Prognostic performance of metabolite ratios was evaluated by Receiver Operating Characteristics (ROC) analysis.
Results
Three metabolite ratios showed significant difference between outcome groups after correction for multiple testing (
p
 < 0.0014): myo-inositol (mIns)/N-acetyl-aspartate (NAA) height, mIns/creatine (Cr) height, both at TE = 35 ms, and NAA/Cr height at TE = 144 ms. Assessment of age-dependency showed that all 3 metabolite ratios (mIns/NAA, NAA/Cr and mIns/Cr) stayed constant during first 96 postnatal hours, rendering them optimal for prediction. ROC analysis revealed that mIns/NAA gives better prediction for outcome than NAA/Cr and mIns/Cr with cut-off values 0.6798 0.6274 and 0.7798, respectively, (AUC 0.9084, 0.8396 and 0.8462, respectively,
p
 < 0.00001); mIns/NAA had the highest specificity (95.24%) and sensitivity (84.62%) for predicting outcome of neonates with HIE any time during the first 96 postnatal hours.
Conclusions
Our findings suggest that during first 96 h of age even conventional H-MRS could be a useful prognostic tool in predicting the outcome of asphyxiated neonates; mIns/NAA was found to be the best and age-independent predictor.