01.12.2016 | Research article | Ausgabe 1/2016 Open Access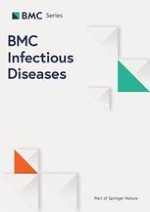 Prognostic value of mid-regional pro-adrenomedullin (MR-proADM) in patients with community-acquired pneumonia: a systematic review and meta-analysis
Zeitschrift:
Autoren:

Dan Liu, Lixin Xie, Haiyan Zhao, Xueyao Liu, Jie Cao
Wichtige Hinweise
Electronic supplementary material
The online version of this article (doi:
10.​1186/​s12879-016-1566-3
) contains supplementary material, which is available to authorized users.
Abstract
Background
The early identification of patients at risk of dying from community-acquired pneumonia (CAP) is critical for their treatment and for defining hospital resource consumption. Mid-regional pro-adrenomedullin (MR-proADM) has been extensively investigated for its prognostic value in CAP. However, the results are conflicting. The purpose of the present meta-analysis was to explore the diagnostic accuracy of MR-proADM for predicting mortality in patients suffering from CAP, particularly emergency department (ED) patients.
Method
We systematically searched the PubMed, Embase, Web of Knowledge and Cochrane databases. Studies were included if a 2 × 2 contingency table could be constructed based on both the MR-proADM level and the complications or mortality of patients diagnosed with CAP. The prognostic accuracy of MR-proADM in CAP was assessed using the bivariate meta-analysis model. We used the Q-test and
I
2
index to evaluate heterogeneity.
Results
MR-proADM displayed moderate diagnostic accuracy for predicting complications in CAP, with an overall area under the SROC curve (AUC) of 0.74 (95 % CI: 0.70–0.78). Eight studies with a total of 4119 patients in the emergency department (ED) were included. An elevated MR-proADM level was associated with increased risk of death from CAP (RR 6.16, 95 % CI 4.71–8.06); the
I
2
value was 0.0 %, and a fixed-effects model was used to pool RR. The pooled sensitivity and specificity were 0.74 (95 % CI: 0.67–0.79) and 0.73 (95 % CI: 0.70–0.77), respectively. The positive likelihood ratio (PLR) and negative likelihood ratio (NLR) were 2.8 (95 % CI, 2.3–3.3) and 0.36 (95 % CI, 0.29–0.45), respectively. In addition, the diagnostic odds ratio (DOR) was 8 (95 % CI, 5–11), and the overall area under the SROC curve was 0.76 (95 % CI, 0.72–0.80).
Conclusions
Our study has demonstrated that MR-proADM is predictive of increased complications and higher mortality rates in patients suffering from CAP. Future studies are warranted to determine the prognostic accuracy of MR-proADM in conjunction with severity scores or other biomarkers and to determine an optimal cut-off level.