01.12.2017 | Research article | Ausgabe 1/2017 Open Access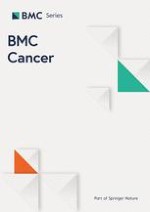 Prognostic value of pretreatment serum alanine aminotransferase/aspartate aminotransferase (ALT/AST) ratio and gamma glutamyltransferase (GGT) in patients with esophageal squamous cell carcinoma
Zeitschrift:
Autoren:

Hao Huang, Xue-Ping Wang, Xiao-Hui Li, Hao Chen, Xin Zheng, Jian-Hua Lin, Ting Kang, Lin Zhang, Pei-Song Chen
Abbreviations
AST
Aspartate Aminotransferase
CEA
Carcino-embryonic antigen
ESCC
Esophageal squamous cell carcinoma
GGT
Gamma glutamyltransferase
SCC
Squamous cell carcinoma antigen
Background
Esophageal cancer is one of the most prevalent malignant diseases worldwide, among all histologic types, esophageal squamous cell carcinoma (ESCC) occupies major portion [
1
,
2
], and has the sixth mortality rates of any cancer globally. Most patients with ESCC will receive optional therapeutic options, such as surgery only, surgery with adjuvant chemotherapy, and adjuvant systemic therapy which may consist of radiotherapy, or a combination of these treatments. However, the overall 5-year survival rate of patients treated with only surgical resection is less than 20% [
3
,
4
]. As treatment plans are becoming more individualized for each patient, it is important to assess disease progression in a timely manner while accurately evaluating the prognosis [
5
]. To date, various serum biomarkers, such as SCC, CYFRA21-1and CEA, have been served as the valuable markers to estimate the prognosis of ESCC patients [
6
]. However, the sensitivity and specificity are not sufficient or reliable. Furthermore, correlations between ESCC survival and thrombin time (TT) [
7
] or apolipoprotein A1 (Apo-A1) [
8
] have been reported in our previous study. Thus, in order to improve the posttreatment survival of patients, identification of more effective and accurate biomarker of ESCC is a necessity.
The routine blood sample that examines liver function tests (LFTs), partly consist of alanine aminotransferase (ALT), aspartate aminotransferase (AST), the level of ALT/AST ratio (LSR), total bile acid (TBA), gamma glutamyltransferase (GGT), and lactate dehydrogenase (LDH). LFTs are often included as routine tests for many different liver and non-liver diseases and are often obtained at initial consultation. Furthermore, changes in LFTs levels in cancer patients before and after neoadjuvant treatment are closely related to postoperative recurrence, such as breast cancer [
9
], gastric adenocarcinoma and other cancers. Serum ALT and AST are the circulating transaminases in the body, and are specific markers of liver dysfunction, which can generate products in gluconeogenesis and amino acid metabolism through catalyzing the transfer of amino groups [
10
,
11
]. Many studies have indicated that serum levels of ALT and AST may be correlated with hepatitis tumors [
12
], type 2 diabetes mellitus [
13
], cardiovascular disease [
14
] and other diseases, and is the level of ALT/AST ratio (LSR). However, no studies were used to evaluate the relationship between the pretreatment serum LSR and survival of ESCC patients. Furthermore, as a key enzyme in glutathione (GSH) metabolism, GGT is the major antioxidant of the cell, which have played a key role in neutralizing reactive oxygen compounds and free radicals by catalyzing the degradation of extracellular GSH [
15
]. Previous studies have reported on the associations of serum GGT levels with the risk of cancer [
16
,
17
]. This study was designed to conduct a retrospective cohort analysis to explore the predictive role of the LSR and GGT on overall survival (OS) in patients with ESCC.
Methods
Patients
A total of 447 eligible patients (346 men and 101 women) confirmed as ESCC at the Sun Yat-sen University Cancer Center, China, were identified in the present study from January 2007 to July 2010. The main clinical characteristics are described in Table
1
. The inclusion and exclusion criteria were included in our previous study especially for LFTs [
8
]. All patients were pathologically confirmed as ESCC, and exclusion criteria were as follows: (1) patients who received any drugs known to affect LFTs or surgery before being enrolled in this study; (2) patients who were diagnosed with liver diseases, cardiovascular disease, diabetes or metabolic syndrome, which could influence the serum LFTs; (3) patients with other types of tumors. In addition, the pathological stage of tumor was evaluated using the American Joint Committee on Cancer Staging system (AJCC, 2002; Greene) [
18
]. Only the first record of hospitalizations were retained, and all the patients had undergone treatment. Clinical data, such as demographic data, pathological stage (pTNM), alcohol consumption, therapeutic schemes, survival status and the levels of LFTs were available for all patients. The alcohol index was classified into 'drinking' and 'not drinking'. All 447 patients underwent surgical resection. Specifically, 53.2% (238/447) patients underwent tumor resection only, and 3.8% (17/447) patients received unknown therapy. Furthermore, 36.2% (162/447) ESCC patients experienced chemotherapy after surgery, while 6 patients experienced radiation and 24 patients experienced both radiation and chemotherapy after surgery. Treatment strategies were determined by the pathological stage, the doctors' opinions and the patient wishes. Primary esophagectomy and regional lymphadenectomy was included in this study as surgical procedure [
19
]. As adjuvant chemotherapy, a two-drug regimen of platinum-based drugs were administered for 4–6 cycles. Postoperative radiation of 46–64 Gy was mainly applied to the anastomosis, supraclavicular, and mediastinal lymphatics.
Table 1
Main clinical characteristics and parameters in 447 patients with ESCC
Characteristics

Median (25th–75th percentile) or no. (%)

Gender (n)

 Male

346 (77.4)

 Female

101 (22.6)

Age

  < 59 years

233 (52.1)

  ≥ 59 years

214 (47.9)

Alcohol (n)

 No

261 (58.4)

 Yes

186 (41.6)

Tumor location

 Upper

41 (9.2)

 Middle

278 (62.2)

 Lower

128 (28.6)

Stage (n)

 I and II

235 (52.6)

 III and IV

212 (47.4)

Treatment (n)

 Surgery only

238 (53.2)

 Surgery and chemotherapy

179 (40.0)

 Surgery and radiotherapy

6 (1.3)

 Surgery and chemotherapy and radiotherapy

24 (5.4)

Deads (n)

 No

199 (44.5)

 Yes

248 (55.5)

Tests

 GGT

23.1 (16.8–35.2)

 LDH

154.4 (135.7–174.2)

 TBA

4.14 (2.43–6.65)

 ALT

15.1 (11.5–20.8)

 AST

18.2 (15.8–22.1)

 ALT/AST

0.82 (0.67–1.02)
Assessment of LFTs and follow-up
Patients received routine serum tests for biochemical detection at the first visit in our hospital. Serum samples were collected between 7 and 8 a.m., and were centrifuged at 3500 g/min for 8 min to allow serum separation. The levels of ALT, AST, GGT, TBA, and LDH were measured in serum using a Hitachi 7600 automatic biochemical analyzer (Hitachi High-Technologies, Tokyo, Japan). The LSR was calculated as the serum ALT level divided by the serum AST level.
Prior to use of these sera, all patients signed an informed consent. The follow-up method was same as that of our previous study [
8
]. The last follow-up session was in January 2016. This study was conducted with the approval of the Institute Research Ethics Committee of the Sun Yat-Sen University Cancer Center, Guangzhou, China.
Statistical analysis
Data analyses were done using SPSS 16.0 for Windows software (IBM, Chicago, IL, USA). OS was calculated between the first diagnosis of ESCC and death, or final clinical follow-up. Data were expressed as the median. A Cox proportional-hazard model for multivariable analysis was applied for variables that proved to be significant in the univariate analysis. The Kaplan-Meier method and the log-rank test were used to plot the survival curves of this survey. The correlation between LSR, GGT and clinical characteristics was analyzed using the Mann–Whitney U test and χ
2
test. A two tailed
P
value <0.05 was considered statistically significant.
Results
Discussion
In ESCC, prognostic biomarkers are needed to understand the development of cancer and for tailoring individual therapeutic strategies. Thus, it is imperative that inexpensive and convenient prognostic biomarkers for this disease are identified.
Recently, serum markers have used in noninvasive cancer diagnosis, individual treatment, monitoring of prognosis and recurrence, and includes circulating tumor cells, exosomes, free DNA, and protein-based markers. As protein-based markers, the association between the LFTs and survival in ESCC were evaluated, and LSR and GGT were demonstrated to be independent predictors of overall survival in ESCC. Thus, LSR appears to be a new prognostic marker in ESCC.
Conclusions
In summary, this retrospective study is the first to validating the association between pretherapy serum LFTs and ESCC. Based on the 447 patients in our cohort, we showed that pretreatment serum LSR and GGT levels are prognostic factors for OS in ESCC, both in the entire cohort and in subgroups classified by pathological stage. These biomarkers offer high reproducibility and could be tested easily in clinical laboratories. As our study is a retrospective analysis, it is only valid for generating the hypothesis, a large-scale and prospective study should be done to validated the value of LSR and GGT in HCC.
Acknowledgments
All the authors gratefully thank the staff of the Biochemical Laboratory of Sun Yat-sen University Cancer Center for kindly providing biochemical markers and their assistance in this study.
Funding
This work was financially supported by the Guangdong Esophageal Cancer Institute Project (No. Q201405), which participated in data collection and analysis.
Availability of data and materials
Due to ethical restrictions, the raw data underlying this paper are available upon request to the corresponding author.
Ethics approval and consent to participate
This study was approved by the Institute Research Ethics Committee of the Sun Yat-Sen University Cancer Center, Guangzhou, China. Each patients signed the informed consent.
Consent for publication
Not applicable.
Competing interests
The authors disclose no competing interests. There are no financial and non-financial competing interests (political, personal, religious, ideological, academic, intellectual, commercial or any other) to declare in relation to this.
Publisher's Note
Springer Nature remains neutral with regard to jurisdictional claims in published maps and institutional affiliations.
Open Access
This article is distributed under the terms of the Creative Commons Attribution 4.0 International License (
http://​creativecommons.​org/​licenses/​by/​4.​0/​
), which permits unrestricted use, distribution, and reproduction in any medium, provided you give appropriate credit to the original author(s) and the source, provide a link to the Creative Commons license, and indicate if changes were made. The Creative Commons Public Domain Dedication waiver (
http://​creativecommons.​org/​publicdomain/​zero/​1.​0/​
) applies to the data made available in this article, unless otherwise stated.