23.11.2016 | Imaging | Ausgabe 1/2017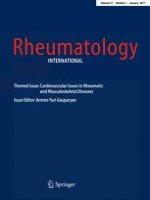 Progression of noncalcified and calcified coronary plaque by CT angiography in SLE
Zeitschrift:
Autoren:

Aisha Khan, Armin Arbab-Zadeh, Adnan N. Kiani, Laurence S. Magder, Michelle Petri
Abstract
Premature coronary artery disease remains the major cause of late death in systemic lupus erythematosus (SLE). Coronary artery calcium (CAC) represents an advanced stage of atherosclerosis, whereas noncalcified coronary atherosclerotic plaque (NCP) typically is more prone to trigger acute coronary events. The aim of this study was to assess the stability of NCP over time and identify factors associated with changes in NCP in patients with SLE. CT coronary angiography and calcium scanning were performed at baseline and follow-up in thirty-six SLE patients. Duration between baseline and follow-up NCP assessment ranged from 2 to 8 years. CAC was quantified by the Agatston score and classified as none, low (1–99), moderate (100–299) or high calcium score (300 and above). NCP was quantified based on a previously validated score and classified as none, low (<0.5) or high (0.5+). SLE disease activity was quantified using the SELENA–SLEDAI and physician global assessment indices. To assess the association between quantitative clinical variables and changes in NCP, adjusting for time, we used linear regression models. The group of 36 SLE patients were 75% females, 75% Caucasians, 17% African-Americans, 8% other ethnicities. The mean age of patients was 46.6 years. For NCP, 17/36 (47%) of the patients switched qualitative NCP class (none, low, high) between baseline and follow-up, whereas for CAC only 3/35 (9%) switched qualitative class. Increasing years between assessments were associated with an increase in NCP (
P
= 0.038). The proportion of time on immunosuppressants was associated with a decrease in NCP (
P
= 0.06). Calcified coronary plaque levels remained relatively stable over a period of 2–8 years. Noncalcified coronary plaque levels were more variable. Use of immunosuppressive drugs appeared to be protective against noncalcified coronary plaque progression.