19.10.2018 | Original Article | Ausgabe 2/2019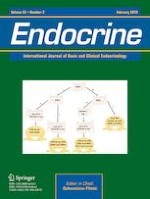 Progression of pituitary tumours: impact of GH secretory status and long-term GH replacement therapy
Zeitschrift:
Autoren:

Valentina Gasco, Marina Caputo, Valeria Cambria, Guglielmo Beccuti, Mirko Parasiliti Caprino, Ezio Ghigo, Mauro Maccario, Silvia Grottoli
Abstract
Background
Most patients treated for hypothalamic–pituitary tumours develop GH deficiency. Long-term GH replacement treatment in adults with a previous history of hypothalamic–pituitary tumour could represent a concern about increasing the risk of tumour enlargement or recurrence.
Purpose
To assess the progression risk of hypothalamic–pituitary tumours according to the GH secretory status (normal GH secretion, non-treated and treated GH deficiency). and determine the predictors of neoplasm recurrence.
Methods
We retrospectively reviewed 309 patients with tumours of the hypothalamic–pituitary region (294 subjects underwent neurosurgery while 81 radiotherapy) who were followed for 9.9 ± 8.3 years.
Results
Out of 309 patients, 200 were affected by severe GH deficiency; 90 of these underwent GH therapy. The tumour progression rate did not differ among GH-sufficient, not-treated and treated GH-deficient patients (16.5%, 16.4%. and 10.0%, respectively). In a multivariate analysis, previous radiotherapy (HR 0.12, CI 0.03–0.52,
p
 < 0.005) and residual tumour (HR 8.20, CI 2.38–28.29,
p
 < 0.001) were independent predictors of recurrence. After controlling for multiple covariates, the tumour recurrence risk in GH-sufficient and GH-treated patients was similar to that observed in not-treated GH-deficient patients.
Conclusions
With limitations of retrospective analysis, GH therapy is not associated with an increased progression rate of tumours of the hypotalamic–pituitary region during long follow-up, thus supporting the long-term safety of GH treatment. The only predictors of tumour recurrence appear to be the presence of residual disease and the lack of radiotherapy.