17.08.2017 | Original Article - Vascular | Ausgabe 11/2017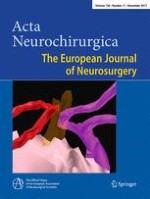 Prolonged hypotension after carotid artery stenting: incidence, predictors and consequences
Zeitschrift:
Autoren:

Elif Gökçal, Elvin Niftaliyev, Çiğdem Deniz, Mehmet Ergelen, Vildan Güzel, Ömer Göktekin, Talip Asil
Wichtige Hinweise
Presented as an oral presentation at the 10th World Stroke Congress in Hyderabad India, in 2016
Comments
This was a retrospective study to determine the incidence of and factors contributing to and eventual clinical relevance of prolonged hypotension (PH) in the setting of carotid artery stenting. The utilized definition for PH, defined as a systolic blood pressure <90 mmHg lasting more than 1 h despite adequate treatment, is consistent with the previous literature parameters. The authors determined that PH was significantly associated with >70% contralateral stenosis and with the absence of DM. Although there were no post-procedural complications or major vascular events at follow-up, PH was associated with longer hospital stays.
There is controversy in the literature regarding the cardiovascular sequelae after hemodynamic instability surrounding carotid artery stenting. The authors postulate that baroreceptor reflex sensitivity and reserve (and its role in the physiologic mechanism behind why PH occurs) may be more likely in patients with contralateral stenosis and in non-diabetics. Similar findings have been shown for patients with CEA. Despite the modest sample size of this study, examining this problem in CAS patients as well is worthwhile.
This is an interesting and scholarly analysis and observation. There is much more we still need to understand. The most encouraging finding in this study is that with good care and assiduous management, prolonged postoperative hypotension does not lead to worsened outcomes.
Anand Kaul
Christopher M. Loftus
Philadelphia, PA, USA
Abstract
Background
Hemodynamic changes frequently occur after carotid artery stenting (CAS), and in some patients these changes, particularly hypotension, may be prolonged. There are discrepant results for predicting patients at high risk for these prolonged hemodynamic changes and identifying the effect on clinical outcome. In this study, we aimed to determine the frequency, predictors and consequences associated with prolonged hypotension (PH) after CAS in our center.
Methods
We retrospectively analyzed the demographics, risk factors, nature of carotid disease, degree of stenosis of both internal carotid arteries, stent diameter and site of dilatation during stenting in 137 CAS procedures. After CAS, duration of hospital stay, complications during hospital stay and major vascular events or death in a 3-month period were evaluated. PH was defined as a systolic blood pressure <90 mmHg lasting more than 1 h despite adequate treatment after CAS.
Results
PH occured in 23 (16.8%) patients. The presence of contralateral stenosis ≥70% and absence of diabetes mellitus were significantly associated with PH. Duration of hospital stay was significantly longer in patients with PH. No patients with PH had a periprocedural complication or major vascular events in the follow-up period.
Conclusion
PH was more prevalent in patients with contralateral high-degree carotid stenosis and patients without diabetes mellitus after CAS. PH did not cause any post-procedural complications or major vascular events at follow-up, but it resulted longer hospital stays. Further studies are needed to better define the pathophysiologic mechanisms underlying these hemodynamic alterations.