01.03.2013 | Original Paper | Ausgabe 1/2013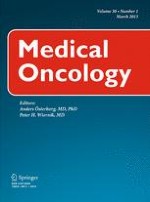 Promising long-term outcome of gemcitabine, vinorelbine, liposomal doxorubicin (GVD) in 14-day schedule as salvage regimen for patients with previously heavily treated Hodgkin's lymphoma and aggressive non-Hodgkin's lymphoma
Zeitschrift:
Autoren:

Bing Bai, Hui-Qiang Huang, Qing-Qing Cai, Xiao-Xiao Wang, Qi-Chun Cai, Ze-Xiao Lin, Yan Gao, Yi Xia, Qing Bu, Ying Guo
Wichtige Hinweise
Bing Bai and Hui-Qiang Huang The first two authors contributed equally to this work.
Abstract
The combination of gemcitabine (G), vinorelbine (V), and pegylated liposomal doxorubicin (D) has proved to be effective in relapsed Hodgkin's lymphoma (HL). Its efficacy in non-Hodgkin's lymphoma (NHL) remains to be discussed. We retrospectively evaluated the efficacy and toxicity of the dose-adjusted gemcitabine, vinorelbine, liposomal doxorubicin (GVD) in 14-day schedule in 35 heavily pretreated patients with relapsed and refractory aggressive NHL or HL. Treatment consisted of G: 800 mg/m
2
intravenous (i.v.) on day 1, V: 15 mg/m
2
i.v. on day 1; D: 20 mg/m
2
i.v. on day 1, repeated for 14 days. Patients responded to GVD proceeded to subsequent autologous stem cell transplantation. The objective response rate (ORR) was 48.6 %, with 31.4 % complete remission. A higher ORR was observed in patients with HL than in patients with NHL (80.0 vs. 36.0 %,
P
= 0.023). With a median follow-up of 26 months, the estimated median progression-free survival and overall survival were 5 (range 1–73 months) and 36 months (range 2–73 months), respectively. The estimated 5-year survival rate was 44.6 % (95 % confidence interval 28.1–61.1 %). Toxicities were mild (grade 3/4 neutropenia 34.3 %, thrombocytopenia 5.7 %). Our results suggest that the dose-adjusted GVD in 14-day schedule is effective and well tolerated in patients with refractory and relapsed HL and aggressive NHL. The potential long-term survival in NHL is promising.