01.12.2019 | Study protocol | Ausgabe 1/2019 Open Access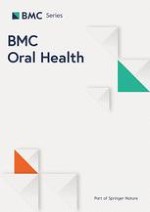 Promoting parenting strategies to improve tooth brushing in children: design of a non-randomised cluster-controlled trial
Zeitschrift:
Autoren:

Maddelon de Jong-Lenters, Monique L'Hoir, Erica Polak, Denise Duijster
Wichtige Hinweise
Electronic supplementary material
Publisher's Note
Springer Nature remains neutral with regard to jurisdictional claims in published maps and institutional affiliations.
Abstract
Background
Tooth brushing with fluoride toothpaste is a key recommendation in evidence-based guidelines for caries prevention. Parents generally have sufficient knowledge to practice tooth brushing for their child, yet many experience barriers to actually implement the behaviour. Common barriers are associated with difficult child behaviour, stress, poor family organisation and management of routines. These underlying determinants of tooth brushing behaviour should be addressed in caries-preventive interventions.
The 'Uitblinkers' intervention is a semi-structured interview method developed for oral healthcare professionals (OHPs), with the aim to improve the practice of twice daily tooth brushing in children. The interview method focusses on 1) identifying parents' barriers to tooth brushing, and 2) promoting parenting strategies (related to tooth brushing) to tackle the identified barriers. The intervention applies principles from learning theory, including stimulus control, operant conditioning and authoritative parenting. This paper describes a study protocol to evaluate the effect of the intervention.
Methods
This non-randomised cluster-controlled trial will be conducted in 40 general dental practices in The Netherlands. Intervention practices will implement the intervention in addition to care as usual, while control practices will only provide care as usual. From each dental practice, a random sample of 3 to 4-year-old children will be recruited. The intervention consists of three sessions between an OHP and parent, in which parenting strategies for identified barriers are discussed. The primary study outcome is children's dental caries experience after 24 months. Secondary outcomes include parents' self-efficacy in brushing their children's teeth, tooth brushing frequency in children and children's dental plaque scores. Differences in outcomes between the intervention and control group will be assessed using logistic and negative binomial regression. The feasibility of the intervention will be assessed through process evaluation.
Discussion
Findings of this study will ascertain whether promoting parenting strategies is a successful method to improve tooth brushing in children and to prevent childhood dental caries in a clinical dental setting.
Trial registration
This trial is registered with the Netherlands National Trial Register (registration date: 7 September 2018; trial registration number:
NTR7469
).