01.09.2009 | Brief Report | Ausgabe 9/2009 Open Access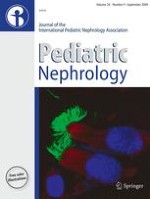 Prophylactic plasma exchange in
CD46-

associated atypical haemolytic uremic syndrome
Zeitschrift:
Autoren:

Jean-Claude Davin, Nynke Buter, Jaap Groothoff, Joanna van Wijk, Antonia Bouts, Lisa Strain, Tim Goodship
Abstract
Patients with atypical haemolytic uremic syndrome (aHUS) with a mutation in the gene encoding membrane cofactor protein (
CD46
) are known to have a better prognosis than those with mutations in factor H (
CFH
) or factor I (
CFI
), but a small number of the former still proceed to end-stage renal failure. Plasma therapy (PE) is the recommended approach to treat both acute episodes and prevent recurrences in aHUS, but studies have yet to show PE efficacy in aHUS associated with a
CD46
mutation. The factors determining failure to treatment are not clear and may be related to the mutation involved or to insufficient treatment. Our experience of PE in a family of three sisters with
CFH
-associated aHUS suggests that intensive and prophylactic PE allows renal function to be maintained in both native kidneys and allografts. The success of this strategy has led us to use it in all cases of aHUS. Here, we describe the effect of this strategy in a child with aHUS and a
CD46
mutation. The initial episode was treated with daily PE, resulting in the recovery of renal function. However, over the next 4 years, there was a progressive decline in renal function to end-stage renal failure, with evidence of an on-going thrombotic microangiopathy despite continuous prophylactic PE. Prophylactic PE does not influence the natural course of aHUS and
CD46
mutation.