01.12.2018 | Research article | Ausgabe 1/2018 Open Access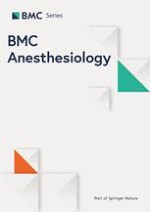 Propofol alleviates hypoxia-induced nerve injury in PC-12 cells by up-regulation of microRNA-153
Zeitschrift:
Autoren:

Mingwei He, Haiyan Sun, Jinlei Pang, Xiangfei Guo, Yansong Huo, Xianhong Wu, Yaguang Liu, Jun Ma
Abstract
Background
Although the neuroprotective role of propofol has been identified recently, the regulatory mechanism associated with microRNAs (miRNAs/miRs) in neuronal cells remains to be poorly understood. We aimed to explore the regulatory mechanism of propofol in hypoxia-injured rat pheochromocytoma (PC-12) cells.
Methods
PC-12 cells were exposed to hypoxia, and cell viability and apoptosis were assessed by CCK-8 assay and flow cytometry assay/Western blot analysis, respectively. Effects of propofol on hypoxia-injured cells were measured, and the expression of miR-153 was determined by stem-loop RT-PCR. After that, whether propofol affected PC-12 cells under hypoxia via miR-153 was verified, and the downstream protein of miR-153 as well as the involved signaling cascade was finally explored.
Results
Hypoxia-induced decrease of cell viability and increase of apoptosis were attenuated by propofol. Then, we found hypoxia exposure up-regulated miR-153 expression, and the level of miR-153 was further elevated by propofol in hypoxia-injured PC-12 cells. Following experiments showed miR-153 inhibition reversed the effects of propofol on hypoxia-treated PC-12 cells. Afterwards, we found BTG3 expression was negatively regulated by miR-153 expression, and BTG3 overexpression inhibited the mTOR pathway and AMPK activation. Besides, hypoxia inhibited the mTOR pathway and AMPK, and these inhibitory effects could be attenuated by propofol.
Conclusion
Propofol protected hypoxia-injured PC-12 cells through miR-153-mediataed down-regulation of BTG3. BTG3 could inhibit the mTOR pathway and AMPK activation.