01.12.2016 | Review | Ausgabe 1/2016 Open Access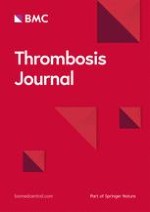 Proposal for new diagnostic criteria for DIC from the Japanese Society on Thrombosis and Hemostasis
Zeitschrift:
Autoren:

Hidesaku Asakura, Hoyu Takahashi, Toshimasa Uchiyama, Yutaka Eguchi, Kohji Okamoto, Kazuo Kawasugi, Seiji Madoiwa, Hideo Wada, DIC subcommittee of the Japanese Society on Thrombosis and Hemostasis
Abbreviations
DIC
Disseminated intravascular coagulation
ISTH
International Society on Thrombosis and Haemostasis
SSC
Scientific Standardization Committee
PAI-1
Plasminogen activator inhibitor-1
TAT
Thrombin-antithrombin complex
F1+2
Prothrombin fragment 1 + 2
PIC
Plasmin-α2 plasmin inhibitor complex
FDP
Fibrin/fibrinogen degradation products
APL
Acute promyelocytic leukemia
JMHW
Japanese Ministry of Health and Welfare
JAAM
Japanese Association for Acute Medicine
JSTH
Japanese Society on Thrombosis and Hemostasis
Background
Disseminated intravascular coagulation (DIC) is a serious disease that, in the presence of underlying disease, causes persistent, generalized, marked coagulation activation and frequent formation of microthrombi in microvessels. Both coagulation activation and fibrinolytic activation are seen, but the severity of the fibrinolytic activation differs considerably as a function of the underlying disease(s). Progression of DIC causes decreases in hemostatic factors such as platelets and clotting factors and leads to consumption coagulopathy [
1
–
5
]. The two major symptoms of DIC are bleeding symptoms and organ symptoms, and the prognosis becomes very poor if the clinical symptoms become apparent. For that reason, it is ideal to initiate treatment of DIC before clinical symptoms manifest.
The Scientific Standardization Committee (SSC) of the International Society on Thrombosis and Haemostasis (ISTH) defined DIC as follows: "DIC is an acquired syndrome characterized by the intravascular activation of coagulation with loss of localization arising from different causes. It can originate from and cause damage to the microvasculature, which if sufficiently severe, can produce organ dysfunction" [
6
]. The view of the ISTH can be considered to represent the world's general perception regarding DIC. In fact, the pathology of DIC complicated by sepsis or some other severe infection is accurately presented. However, serious bleeding symptoms may occur due to marked fibrinolytic activation, as in the case of DIC secondary to acute leukemia (especially acute promyelocytic leukemia), aortic aneurysm, giant hemangioma, placental abruption, and metastatic prostate cancer. Although organ symptoms are usually not seen, there is a problem in that consideration has not been given to DIC with severe bleeding symptoms [
7
,
8
].
DIC is a serious condition, and early treatment based on an appropriate diagnosis is very important for improving patients' prognosis, in which effective diagnostic criteria play a key role. In this paper, we discuss the diversity in DIC, as well as various problems encountered with DIC diagnosis, and describe the provisional draft DIC diagnostic criteria that have been proposed by the Japanese Society on Thrombosis and Hemostasis (JSTH) (the new criteria).
Review
Conclusion
DIC, based on the presence of underlying disease, has a common pathology in that systemic, persistent, marked coagulation activation is caused. However, there are many points of difference in terms of the degree of fibrinolytic activation, the way in which clinical symptoms manifest, and the degree of formation of pathological blood clots. In regard to diagnosis of DIC, it also makes sense to apply diagnostic criteria selectively depending on the pathology.
DIC diagnostic criteria have great significance in regard to patients' treatment and prognosis. The JMHW criteria have been extensively used in Japan, but it has been pointed out that they have many problems, such as their poor sensitivity in diagnosing DIC due to infections. Meanwhile, the JAAM criteria are effective for diagnosing DIC due to infection, but they are not applicable to all underlying diseases.
In this paper, we have presented the provisional draft DIC diagnostic criteria of the Japanese Society on Thrombosis and Hemostasis. These new criteria have many laudable aspects, including selective use of diagnostic criteria depending on the underlying disease, incorporation of molecular markers and antithrombin, and measures to reduce misdiagnoses. We look forward to further refinement and improvement of these new criteria in the future.
Acknowledgement
None.
Funding
Meeting expenses were funded by Japanese Society on Thrombosis and Hemostasis.
Availability of data and materials
This review paper includes some of the material contained in a Japanese-language report that was published in Jpn J Thromb Hemost (Ref. 24. JSTH/DIC subcommittee. Diagnostic criteria for DIC by the JSTH —tentative criteria—. Jpn J Thromb Hemost. 2014;25:629–46.). Approval for inclusion of that material in our present English review paper was obtained from the Board of Directors of the Japanese Society on Thrombosis and Hemostasis (JSTH)
Authors' contributions
HA, HT, TU, YE, KO, KK, SM and HW made substantial contributions to the conception of the manuscript, revised the manuscript critically for important intellectual content, provided final approval of the version to be submitted. All authors read and approved the final manuscript.
Competing interests
The authors declare that they have no competing interests with this article. They neither benefited from any source of funding nor sponsorship.
Consent for publication
Not applicable.
Ethics approval and consent to participate
Not applicable.
Open Access
This article is distributed under the terms of the Creative Commons Attribution 4.0 International License (
http://​creativecommons.​org/​licenses/​by/​4.​0/​
), which permits unrestricted use, distribution, and reproduction in any medium, provided you give appropriate credit to the original author(s) and the source, provide a link to the Creative Commons license, and indicate if changes were made. The Creative Commons Public Domain Dedication waiver (
http://​creativecommons.​org/​publicdomain/​zero/​1.​0/​
) applies to the data made available in this article, unless otherwise stated.