15.12.2016 | Originalien | Ausgabe 1/2017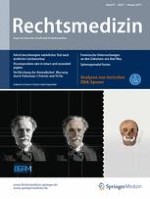 Proposal for subclassification of type I dens axis fractures according to Anderson and D'Alonzo
Clinical forensic findings
Zeitschrift:
Autor:

Prof. Dr. med. Dr. iur. h.c. K.-S. Saternus
Abstract
Background
Recent traumatological and clinical literature still commonly classify fractures of the dens apex according to the system described by Anderson and D'Alonzo (A&A) in 1974. The classification distinguishes between oblique fractures through the upper odontoid process (type I) and two types of fractures involving the body of the dens (type II) or axis (type III). The existing level of evidence is limited because of the low reported incidence of type I fractures (1–3%) among all dens fractures. Collected postmortem data, however, suggest greater non-uniformity than previously assumed; therefore, the aim is to propose a further subclassification of type I into four distinctive subtypes (I-A to I‑D).
Methods
In this study three different type I dens fractures derived from forensic postmortem material involving two fatal accidents and two suicide victims were analyzed focusing on anatomical and mechanical details, described in four case reports and compared with findings in the literature.
Results
The type I dens fractures examined exhibited a characteristic non-uniformity inconsistent with the prevailing A&A classification. The proposed subclassification is based on observed trauma mechanisms and fracture patterns: type I‑A (type I A&A) describes an oblique lateral fracture through the dens apex caused by unilateral traction, type I‑B a horizontal fracture of the dens apex caused by rotation, type I‑C complete avulsion of the axis from the dens apex caused by axial traction trauma and type I‑D an oblique fracture of the frontal apex resulting from compression trauma.
Conclusion
Type I dens fractures should be further classified into four subtypes to reflect the different characteristic injury mechanisms of fractures to the dens apex which do not always correspond to the previous standard of a circumscribed oval bony avulsion.