19.05.2016 | Review | Ausgabe 1/2017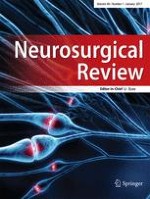 Proposal of an optimized strategy for intraoperative testing of speech and language during awake mapping
Zeitschrift:
Autoren:

Emmanuel Mandonnet, Silvio Sarubbo, Hugues Duffau
Wichtige Hinweise
Comments
Krasimir Minkin, Sofia, Bulgaria
The idea for clear definitions of the errors during DES in awake surgery seems logical taking in consideration the expansion of this procedure as gold standard for intraoperative brain mapping. However, many important methodological differences exist regarding other parameters: set of naming objects, stimulation parameters, and afterdischarges registration. Studies of cortico-cortical evoked potentials raised the question of what we really stimulate beyond some threshold—cortical area, subcortical bundle, or a large network? The paper of Mandonnet et al. has to be considered as an important step in the unification of DES methodology for intraoperative brain mapping.
1. Matsumoto R, Nair DR, LaPresto E, Najm I, Bingaman W, Shibasaki H, Lüders HO. Functional connectivity in the human language system: a cortico-cortical evoked potential study. Brain. 2004 Oct. 127(Pt 10):2316–30.
Abstract
In this paper, we review the literature about the definitions of errors observed by direct electrical stimulation during language testing. As a practical application, we propose an optimized strategy for differentiating accurately motor arrest, speech arrest, and anomia in the context of intraoperative mapping. Finally, we also discuss the anatomical correlates of the networks sustaining these different errors, both cortically and axonally.