01.12.2014 | Research article | Ausgabe 1/2014 Open Access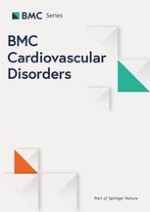 Proprotein convertase subtilisin/kexin type 9 expression is transiently up-regulated in the acute period of myocardial infarction in rat
Zeitschrift:
Autoren:

Yan Zhang, Jun Liu, Sha Li, Rui-Xia Xu, Jing Sun, Yue Tang, Jian-Jun Li
Wichtige Hinweise
Electronic supplementary material
The online version of this article (doi:
10.​1186/​1471-2261-14-192
) contains supplementary material, which is available to authorized users.
Yan Zhang, Jun Liu contributed equally to this work.
Competing interests
The authors declare that they have no competing interests.
Authors' contributions
ZY and LJ completed the project, analyzed the data, and wrote the manuscript. LJ-J and TY established the study, interpreted the data, and contributed to reviewing/editing the manuscript. LS, XR-X, and SJ contributed to assay and analyzing the data. All authors read and approved the final manuscript.
Abstract
Background
The proprotein convertase subtilisin/kexin type 9 (PCSK9) has been confirmed as a major factor regulating cholesterol homeostasis and has low-density lipoprotein receptor (LDLR) independent effects. In addition, the pathogenesis of acute myocardial infarction (AMI) involves lipids alteration and other acute phase responses. It remains unknown whether the PCSK9 expression is influenced by the impact of AMI. The present study aimed to investigate the changes of PCSK9 concentration using AMI rat model.
Methods
AMI (n = 6-8 at each time point) or sham operated (n = 6) adult male rats model were used. Whole blood and liver tissue were collected at 1, 3, 6, 9, 12, 24, 48, and 96 hour (h) post infarction. The plasma PCSK9 concentration was measured by ELISA and lipid profiles were measured by enzymatic assay. The liver mRNA levels of PCSK9, LDLR, sterol response element binding protein-2 (SREBP-2) and hepatocyte nuclear factor 1α (HNF1α) were measured by quantitative real-time PCR.
Results
The plasma PCSK9 concentration was increased from 12 h to 96 h (P < 0.05 vs. control). Paralleled with the enhanced plasma PCSK9 concentration, the hepatic PCSK9 mRNA expression was up-regulated by 2.2-fold at 12 h and 4.1-fold at 24 h. Hepatic mRNA levels of LDLR, SREBP-2 and HNF1α were all increased and lipid profiles underwent great changes at this acute period.
Conclusions
We firstly demonstrated that PCSK9 was transiently up-regulated in the acute period of AMI, which is also driven by transcriptional factors, SREBP-2 and HNF1α, suggesting that the role of PCSK9 in myocardial injury may be needed further study.