16.07.2020 | Oncology | Ausgabe 11/2020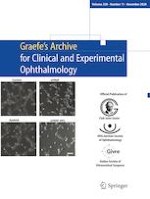 Proptosis due to intraorbital space-occupying lesions in children
Autoren:

Alon Zahavi, Judith Luckman, Geulah S. Ben-David, Helen Toledano, Shalom Michowiz, Yoav Vardizer, Nitza Goldenberg-Cohen
Wichtige Hinweise
This work was presented in part at the 40th Annual Meeting of the North American Neuro Ophthalmology Society (NANOS), Rio Grande, Puerto Rico, 2014; the 42nd Annual Meeting of the European Pediatric Ophthalmological Society (EPOS), Zurich, Switzerland, 2016; and The Association for Research in Vision and Ophthalmology (ARVO), Baltimore, MD, USA, 2017.
Publisher's note
Springer Nature remains neutral with regard to jurisdictional claims in published maps and institutional affiliations.
Abstract
Purpose
To report the 10-year experience of two tertiary medical centers with children presenting with proptosis due to an intraorbital space-occupying lesion.
Methods
Patients were identified by file review. Data were collected on demographics, findings on ophthalmologic and imaging evaluations, etiology, treatment, and outcome.
Results
Nineteen children (7 male) were included. Eleven patients had optic nerve glioma, including 9 with substantially decreased visual acuity. Treatment consisted of chemotherapy alone or with radiation, resection or anti-VEGF agents, MEK inhibitor, or observation only (
n
 = 1). Visual and cosmetic outcomes were poor in all cases. Outcome for arteriovenous malformations was good following corticosteroid treatment (
n
 = 1), but catheterization led to persistent proptosis and fluctuating visual acuity (
n
 = 1). Compound capillary hemangioma (
n
 = 1) was treated with laser and systemic beta blockers with satisfactory results. Rhabdomyosarcoma had a good prognosis in one patient treated with resection and radiation but was fatal in another even after chemotherapy. Juvenile xanthogranuloma, frontal bone osteoma, and localized hypertrophic neuropathy of the supraorbital nerve (
n
 = 1 each) were treated by resection with good visual and cosmetic outcomes.
Conclusions
Proptosis accompanied by visual loss is an uncommon presentation in children and suggests an orbital tumor. We found that visual outcome was better when the nerve was not involved by tumor. Optic nerve glioma was the most common cause and failed to respond to various treatments. Catheterization for arteriovenous malformation did not prevent proptosis, and final visual acuity fluctuated. Surgery for rhabdomyosarcoma and xanthogranuloma led to remission with preservation of vision in 2 of 3 cases.