01.10.2010 | Melanomas | Ausgabe 10/2010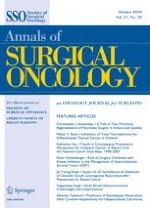 Prospective Assessment of Postoperative Complications and Associated Costs Following Inguinal Lymph Node Dissection (ILND) in Melanoma Patients
Zeitschrift:
Autoren:

MD Sharon B. Chang, MPH Robert L. Askew, MD, PhD Yan Xing, BA Storm Weaver, MD Jeffrey E. Gershenwald, MD Jeffrey E. Lee, MD Richard Royal, MD Anthony Lucci, MD Merrick I. Ross, MD, MPH Janice N. Cormier
Abstract
Background
We prospectively assessed the incidence, risk factors, and costs associated with wound complications and lymphedema in melanoma patients undergoing inguinal lymph node dissection (ILND).
Materials and Methods
A total of 53 melanoma patients were accrued to 2 trials (June 2005 to July 2008) that included prospective evaluations of postoperative complications; 30-day wound complications included infection, seroma, and/or dehiscence. There were 20 patients who underwent limb volume measurement and completed a 19-item lymphedema symptom assessment questionnaire preoperatively and 3 months postoperatively. A multivariate analysis was performed to evaluate potential risk factors for complications. A microcosting analysis was also performed to evaluate the direct costs associated with wound complications.
Results
The 30-day wound complications were noted in 77.4% of patients. A BMI ≥ 30 (
n
= 28) increased the risk for wound complications (odds ratio [OR] = 11.4, 95% confidence interval [95%CI] 1.6–78.5,
P
= .01), while advanced nodal disease approached significance (OR = 9.0, 95%CI: 0.79–103.1,
P
= .08). Other risk factors, including diabetes, smoking, and the addition of a deep pelvic (iliac/obturator) dissection to ILND, were not significant. Of 20 patients, 9 (45%) developed limb volume change (LVC) ≥5% at 3 months, with associated mean symptom scores of 6.1 versus 4.6 for those without LVC. Costs for patients with wound complications were significantly higher than for those without wound complications.
Conclusions
Postoperative wound complications and early onset lymphedema occur frequently following ILND for melanoma. Obesity is an adverse risk factor for 30-day wound complications that can significantly increase postoperative costs, as is likely the case for advanced disease. Risk reduction practices and novel treatment approaches are needed to reduce postoperative morbidity.