16.03.2019 | Original Article | Ausgabe 7/2019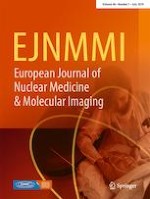 Prospective comparison of whole-body MRI and 68Ga-PSMA PET/CT for the detection of biochemical recurrence of prostate cancer after radical prostatectomy
Autoren:

Lino M. Sawicki, Julian Kirchner, Carolin Buddensieck, Christina Antke, Tim Ullrich, Lars Schimmöller, Johannes Boos, Christoph Schleich, Benedikt M. Schaarschmidt, Christian Buchbender, Philipp Heusch, Robert Rabenalt, Peter Albers, Gerald Antoch, Hans-Wilhelm Müller, Hubertus Hautzel
Wichtige Hinweise
Publisher's note
Springer Nature remains neutral with regard to jurisdictional claims in published maps and institutional affiliations.
Abstract
Purpose
To assess whole-body magnetic resonance imaging (wb-MRI) for detection of biochemical recurrence in comparison to 68Ga-prostate-specific membrane antigen positron emission tomography/computed tomography (68Ga-PSMA PET/CT) in prostate cancer (Pca) patients after radical prostatectomy.
Methods
This was a prospective trial including 28 consecutive patients (mean age 65.3 ± 9.0 years) with newly documented biochemical recurrence of Pca (mean prostate-specific antigen, PSA, 2.09 ± 1.95 ng/ml) following radical prostatectomy. All patients underwent both wb-MRI including a dedicated pelvic imaging protocol and PET/CT with 166 ± 35 MBq 68Ga-PSMA within a time window of 11 ± 10 days. PET/CT and MRI datasets were separately evaluated regarding Pca lesion count, type, localization and diagnostic confidence (three-point Likert scale, 1–3) by two nuclear medicine specialists and two radiologists, respectively. The reference standard was based on histopathological results, PSA levels following targeted salvage irradiation and follow-up imaging. Lesion-based and patient-based detection rates were compared using the chi-squared test. Differences in diagnostic confidence were assessed using the Welch test.
Results
A total of 56 Pca lesions were detected in 20 of the 28 patients.
68
Ga-PSMA PET/CT detected 56 of 56 lesions (100%) in 20 patients (71.4%), while wb-MRI detected 13 lesions (23.2%) in 11 patients (39.3%). The higher detection rate with
68
Ga-PSMA PET/CT was statistically significant on both a per-lesion basis (
p
< 0.001) and a per-patient basis (
p
= 0.0167). In 8 patients (28.6%) no relapse was detectable by either modality. All lesions detected by wb-MRI were also detected by
68
Ga-PSMA PET/CT. Additionally,
68
Ga-PSMA PET/CT provided superior diagnostic confidence in identifying Pca lesions (2.7 ± 0.7 vs. 2.3 ± 0.6,
p
= 0.044).
Conclusion
68Ga-PSMA PET/CT significantly out-performed wb-MRI in the detection of biochemical recurrence in Pca patients after radical prostatectomy.