16.11.2016 | Clinical Investigation | Ausgabe 1/2017 Open Access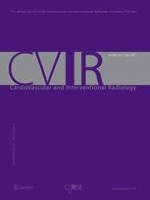 Prostate Artery Embolization for Complete Urinary Outflow Obstruction Due to Benign Prostatic Hypertrophy
Zeitschrift:
Autoren:

Simon Chun Ho Yu, Carmen Chi Min Cho, Esther Hiu Yee Hung, Peter Ka Fung Chiu, Chi Hang Yee, Chi Fai Ng
Abstract
Background
We aimed to evaluate the effectiveness of PAE in weaning of catheter and relieving obstructive urinary symptoms in patients with acute urinary retention (AUR) due to benign prostatic hypertrophy (BPH) and failed trial without catheter (TWOC).
Materials and Methods
In this prospective study approved by the institutional review board, a signed informed consent was obtained. Eighteen consecutive patients with AUR due to BPH and failed TWOC were recruited. Nineteen consecutive patients with BPH but without AUR were recruited as a control. Patients with CTA evidence of arterial occlusion or significant stenosis along the prostate artery access path were excluded. PAE was performed using microspheres (100–300 μm diameter). Outcome assessment included successful weaning of catheter in 2 weeks, procedure-related complications, change of symptomatology and urodynamic findings at 1 month as compared to baseline, percent non-perfused prostate volume, and prostate volume reduction on MRI at 2 weeks.
Results
Two patients in the study group and four in the control group were excluded due to arterial pathology. Embolization of bilateral prostate arteries was achieved in all patients in both the groups (100%). There was no complication. The catheter was successfully weaned in 87.5% (14/16) of patients within 14 days in the treatment group. There was no significant difference in patient demographics, prostate characteristics, and all outcome assessment parameters between both the groups.
Conclusions
PAE was probably safe and effective in weaning of catheter and relieving obstructive urinary symptoms in patients due to BPH, with treatment outcomes comparable to those without AUR.