01.12.2017 | Research | Ausgabe 1/2017 Open Access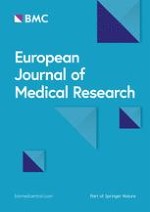 Prosthetic joint infection development of an evidence-based diagnostic algorithm
Zeitschrift:
Autoren:

Heinrich M. L. Mühlhofer, Florian Pohlig, Karl-Georg Kanz, Ulrich Lenze, Florian Lenze, Andreas Toepfer, Sarah Kelch, Norbert Harrasser, Rüdiger von Eisenhart-Rothe, Johannes Schauwecker
Abstract
Background
Increasing rates of prosthetic joint infection (PJI) have presented challenges for general practitioners, orthopedic surgeons and the health care system in the recent years. The diagnosis of PJI is complex; multiple diagnostic tools are used in the attempt to correctly diagnose PJI. Evidence-based algorithms can help to identify PJI using standardized diagnostic steps.
Methods
We reviewed relevant publications between 1990 and 2015 using a systematic literature search in MEDLINE and PUBMED. The selected search results were then classified into levels of evidence. The keywords were prosthetic joint infection, biofilm, diagnosis, sonication, antibiotic treatment, implant-associated infection,
Staph. aureus
, rifampicin, implant retention, pcr, maldi-tof, serology, synovial fluid, c-reactive protein level, total hip arthroplasty (THA), total knee arthroplasty (TKA) and combinations of these terms.
Results
From an initial 768 publications, 156 publications were stringently reviewed. Publications with class I–III recommendations (EAST) were considered. We developed an algorithm for the diagnostic approach to display the complex diagnosis of PJI in a clear and logically structured process according to ISO 5807.
Conclusions
The evidence-based standardized algorithm combines modern clinical requirements and evidence-based treatment principles. The algorithm provides a detailed transparent standard operating procedure (SOP) for diagnosing PJI. Thus, consistently high, examiner-independent process quality is assured to meet the demands of modern quality management in PJI diagnosis.