14.11.2017 | Ausgabe 4/2017 Open Access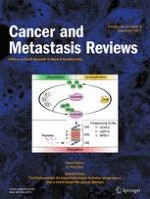 Proteasome-associated deubiquitinases and cancer
Zeitschrift:
Autoren:

Arjan Mofers, Paola Pellegrini, Stig Linder, Pádraig D'Arcy
Wichtige Hinweise
Arjan Mofers and Paola Pellegrini contributed equally to this work.
Abstract
Maintenance of protein homeostasis is a crucial process for the normal functioning of the cell. The regulated degradation of proteins is primarily facilitated by the ubiquitin proteasome system (UPS), a system of selective tagging of proteins with ubiquitin followed by proteasome-mediated proteolysis. The UPS is highly dynamic consisting of both ubiquitination and deubiquitination steps that modulate protein stabilization and degradation. Deregulation of protein stability is a common feature in the development and progression of numerous cancer types. Simultaneously, the elevated protein synthesis rate of cancer cells and consequential accumulation of misfolded proteins drives UPS addiction, thus sensitizing them to UPS inhibitors. This sensitivity along with the potential of stabilizing pro-apoptotic signaling pathways makes the proteasome an attractive clinical target for the development of novel therapies. Targeting of the catalytic 20S subunit of the proteasome is already a clinically validated strategy in multiple myeloma and other cancers. Spurred on by this success, promising novel inhibitors of the UPS have entered development, targeting the 20S as well as regulatory 19S subunit and inhibitors of deubiquitinating and ubiquitin ligase enzymes. In this review, we outline the manner in which deregulation of the UPS can cause cancer to develop, current clinical application of proteasome inhibitors, and the (pre-)clinical development of novel inhibitors of the UPS.