22.12.2015 | Sonderheft 1/2016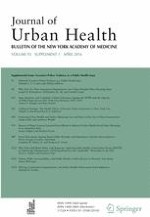 Protecting Urban Health and Safety: Balancing Care and Harm in the Era of Mass Incarceration
Zeitschrift:
Autoren:

Nadia Gaber, Anthony Wright
Wichtige Hinweise
Journal of Urban Health: Special Issue Submission
Drs. Mindy Fullilove and Hannah Cooper, eds.
Abstract
This paper explores theoretical, spatial, and mediatized pathways through which policing poses harms to the health of marginalized communities in the urban USA, including analysis of two recent and widely publicized incidents of officer-involved killings in Ferguson, Missouri and Staten Island, New York. We examine the influence of the "broken windows" model in both policing and public health, revealing alternate institutional strategies for responding to urban disorder in the interests of the health and safety of the city. Drawing on ecosocial theory and medical anthropology, we consider the roles of the segregated built environment and historical experience in the embodiment of structural vulnerability with respect to police violence. We examine the recent shootings of Eric Garner and Michael Brown as the most visible, most circulated symbols of this complex and contradictory terrain, focusing on the pathways through which theories of causality authorize violent and/or caring intervention by the state. We show how police killings reveal an underlying and racialized association between disorder and deviance that becomes institutionalized and embodied through spatial and symbolic pathways. If public health workers and advocates are to play a role in responding to the call of the Black Lives Matter movement, it is important to understand the interpretations and translations of urban social life that circulate on the streets, in the media, in public policy, and in institutional practice.