12.02.2019 | Original Article - Peripheral Nerves | Ausgabe 4/2019 Open Access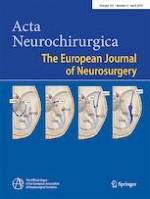 Protective distal side-to-side neurorrhaphy in proximal nerve injury—an experimental study with rats
Zeitschrift:
Autoren:

Henrikki Rönkkö, Harry Göransson, Hanna-Stiina Taskinen, Pasi Paavilainen, Tero Vahlberg, Matias Röyttä
Wichtige Hinweise
This article is part of the Topical Collection on
Peripheral Nerves
Comments
This article is very well planned, executed, and written. It demonstrates the beneficial effect of performing a distal side-to-side nerve anastomosis with or without a partial axotomy, in the setting of a proximal nerve injury that is repaired directly in a delayed manner. It has important clinical implications.
Michel Kliot
CA, USA
Publisher's note
Springer Nature remains neutral with regard to jurisdictional claims in published maps and institutional affiliations.
Abstract
Background
Side-to-side neurorrhaphy may protect the denervated end organ and preserve the initial connection with proximal stump. We examined the effect of protective side-to-side anastomosis on nerve and end organ regeneration in proximal nerve injury model.
Methods
The left common peroneal nerve of 24 Sprague Dawley rats was proximally transected. In groups B and C, side-to-side neurorrhaphy was performed distally between the peroneal and tibial nerves without (group B) and with (group C) partial donor nerve axotomy inside the epineural window. Group A served as an unprotected control. After 26 weeks, the proximal transection was repaired with end-to-end neurorrhaphy on all animals. Regeneration was followed during 12 weeks with the walk track analysis. Morphometric studies and wet muscle mass calculations were conducted at the end of the follow-up period.
Results
The results of the walk track analysis were significantly better in groups B and C compared to group A. Groups B and C showed significantly higher wet mass ratios of the tibialis anterior and extensor digitorum longus muscle compared to group A. Group C showed significantly higher morphometric values compared to group A. Group B reached higher values of the fibre count, fibre density, and percentage of the fibre area compared to group A.
Conclusions
Protective distal side-to-side neurorrhaphy reduced muscle atrophy and had an improving effect on the morphometric studies and walk track analysis. Distal side-to-side neurorrhaphy does not prevent the regenerating axons to grow from the proximal stump to achieve distal nerve stump.