01.12.2012 | Research | Ausgabe 1/2012 Open Access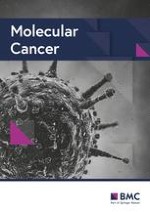 Protective effect of the poly(ADP-ribose) polymerase inhibitor PJ34 on mitochondrial depolarization-mediated cell death in hepatocellular carcinoma cells involves attenuation of c-Jun N-terminal kinase-2 and protein kinase B/Akt activation
Zeitschrift:
Autoren:

Balazs Radnai, Csenge Antus, Boglarka Racz, Peter Engelmann, Janos Krisztian Priber, Zsuzsanna Tucsek, Balazs Veres, Zsuzsanna Turi, Tamas Lorand, Balazs Sumegi, Ferenc Gallyas Jr
Wichtige Hinweise
Electronic supplementary material
The online version of this article (doi:
10.​1186/​1476-4598-11-34
) contains supplementary material, which is available to authorized users.
Competing interests
The authors declare that they have no competing interests.
Authors' contributions
LT synthesized the compound IK11 and made original observations leading to this work. GF Jr and SB designed the work and GF Jr contributed to the critical revision of the script. EP conducted cell cycle analyses, RB measured apoptosis and necrosis and mitochondrial depolarization with flow cytometry. VB and TZ accomplished fluorescent microscopy, AC, PJK performed immunoblot analysis and TZ made the wound healing assay. RB contributed to the conception and design of the entire study, performed the rest of the experiments and wrote the initial drafts of the manuscript. All authors read and approved the final manuscript.
Abstract
Background
2,4-Dimethoxyphenyl-
E
-4-arylidene-3-isochromanone (IK11) was previously described to induce apoptotic death of A431 tumor cells. In this report, we investigated the molecular action of IK11 in the HepG2 human hepatocellular carcinoma cell line to increase our knowledge of the role of poly (ADP-ribose)-polymerase (PARP), protein kinase B/Akt and mitogen activated protein kinase (MAPK) activation in the survival and death of tumor cells and to highlight the possible role of PARP-inhibitors in co-treatments with different cytotoxic agents in cancer therapy.
Results
We found that sublethal concentrations of IK11 prevented proliferation, migration and entry of the cells into their G2 phase. At higher concentrations, IK11 induced reactive oxygen species (ROS) production, mitochondrial membrane depolarization, activation of c-Jun N-terminal kinase 2 (JNK2), and substantial loss of HepG2 cells. ROS production appeared marginal in mediating the cytotoxicity of IK11 since N-acetyl cysteine was unable to prevent it. However, the PARP inhibitor PJ34, although not a ROS scavenger, strongly inhibited both IK11-induced ROS production and cell death. JNK2 activation seemed to be a major mediator of the effect of IK11 since inhibition of JNK resulted in a substantial cytoprotection while inhibitors of the other kinases failed to do so. Inhibition of Akt slightly diminished the effect of IK11, while the JNK and Akt inhibitor and ROS scavenger trans-resveratrol completely protected against it.
Conclusions
These results indicate significant involvement of PARP, a marginal role of ROS and a pro-apoptotic role of Akt in this system, and raise attention to a novel mechanism that should be considered when cancer therapy is augmented with PARP-inhibition, namely the cytoprotection by inhibition of JNK2.