01.01.2012 | Original Research Paper | Ausgabe 1/2012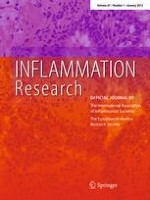 Protective effects of IL-4 on Bacillus Calmette-Guerin and lipopolysaccharide induced immunological liver injury in mice
Zeitschrift:
Autoren:

Nan N. Zhang, Nong Y. Huang, Xi K. Zhou, Xiao L. Luo, Chang Y. Liu, Yan Zhang, Ji Qiu, Yin B. Zhang, Xiu Teng, Can Luo, Xian C. Chen, Bing Kan, Yong Q. Mao, Ai P. Tong, Yu Q. Wei, Jiong Li
Wichtige Hinweise
Responsible Editor: Liwu Li.
N. N. Zhang, N. Y. Huang are contributed equally to this work.
Abstract
Objective
Mice injected with Bacillus Calmette-Guérin (BCG) were challenged with lipopolysaccharide (LPS) to induce inflammatory liver injury. This study was performed to explore the protective effects of interleukin (IL)-4 against liver injury induced by BCG and LPS in mice.
Materials and methods
Mice injected with BCG (125 mg/kg) were challenged with LPS (10 μg/kg) to induce the model of inflammatory liver injury. Half an hour after injection of LPS, mice were subcutaneously administered rmIL-4 at 5 and 0.5 μg/kg, respectively. Liver injury was evaluated by serum transaminase assay and H & E staining. Liver cytokine concentrations were determined by enzyme-linked immunosorbent assay, and intrahepatic cytokine and iNOS mRNA levels by reverse transcriptase polymerase chain reaction. Intrahepatic apoptosis was evaluated by terminal deoxynucleotidyl transferase mediated nick end labeling. NF-κB p65 and ERK signal pathway was detected by Western-blotting. NF-κB signal pathway was also detected by electrophoretic mobility shift assay.
Results
IL-4 reduced the serum ALT, AST and LDH, alleviated the inflammatory cells infiltration, down regulated the expression of TNF-α, IL-1β, IFN-γ, IL-6 and iNOS mRNA in liver, and alleviated hepatic glutathione depletion (GSH). In addition, IL-4 displayed inhibition of extracellular signal-regulated kinase phosphorylation and NF-κB activation.
Conclusion
IL-4 may protect mice against BCG/LPS-induced immune liver injury, besides ERK and NF-κB signal pathways were involved in the effects.