10.07.2020 | Ausgabe 1/2021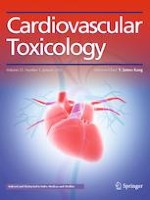 Protective Effects of Spermidine and Melatonin on Deltamethrin-Induced Cardiotoxicity and Neurotoxicity in Zebrafish
Zeitschrift:
Autoren:

Xingyu Liu, Qian Gao, Zeyang Feng, Yaqiu Tang, Xin Zhao, Dongyan Chen, Xizeng Feng
Wichtige Hinweise
Handling Editor: Vittorio Fineschi .
Electronic supplementary material
Xingyu Liu, Qian Gao and Yaqiu Tang have contributed equally to this work.
Publisher's Note
Springer Nature remains neutral with regard to jurisdictional claims in published maps and institutional affiliations.
Abstract
Increased application of the pyrethroid insecticide deltamethrin has adverse effects on the cardiac system and neurobehavior on the non-target organisms, which has raised the public's attention. Because of spermidine and melatonin considered to have cardioprotective and neuroprotective characteristics, zebrafish were utilized as the model organism to explore the protective effects of spermidine and melatonin against deltamethrin-induced toxicity. We tested the neurobehavior of zebrafish larvae through a rest/wake behavior assay, and evaluated the levels of the expression of Scn5lab, gata4, nkx2.5, hcrt, hcrtr, and aanat2 by qRT-PCR. Besides that cmlc2 was evaluated by whole-mount in situ hybridization. Results have shown that compared with control group, 0.025 mg/L deltamethrin could significantly disturb the cardiac development, downregulating the expression of Scn5lab and transcriptional factors gata4 and nkx2.5, disturbing cardiac looping, resulting in defects in cardiac morphology and function. Moreover, deltamethrin could alter the expression levels of rest/wake genes and cause hyperactivity in zebrafish larvae. Besides, compared with deltamethrin group, the exogenous 0.01 mg/L spermidine and 0.232 mg/L melatonin could significantly rescue the adverse effects of deltamethrin on the cardiac system and neurobehavior in zebrafish. This indicated that spermidine and melatonin have neuroprotective and cardioprotective effects against deltamethrin-induced adverse effects in zebrafish.