01.03.2018 | Original Article | Ausgabe 7/2018 Open Access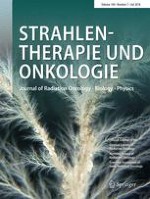 Protective effects of systemic dermatan sulfate treatment in a preclinical model of radiation-induced oral mucositis
Zeitschrift:
Autoren:

Sylvia Gruber, Katharina Frings, Peter Kuess, Wolfgang Dörr
Abstract
Purpose
Oral mucositis is a frequent, dose-limiting side effect of radio(chemo)therapy of head-and-neck malignancies. The epithelial radiation response is based on multiple tissue changes, which could offer targets for a biologically tailored treatment. The potential of dermatan sulfate (DS) to modulate radiation-induced oral mucositis was tested in an established preclinical mucositis model.
Methods
Irradiation was either applied alone or in combination with daily DS treatment (4 mg/kg, subcutaneously) over varying time intervals. Irradiation comprised single dose irradiation with graded doses to the lower tongue surface or daily fractionated irradiation of the whole tongue. Fractionation protocols (5 × 3 Gy/week) over one (days 0–4) or two weeks (days 0–4, 7–11) were terminated by an additional local single dose irradiation to a defined treatment field on the lower tongue surface to induce the mucosal radiation response. The additional single dose irradiation (top-up) on day 7 (after one week of fractionation) or day 14 (after 2 weeks of fractionation) comprised graded doses in order to generate full dose–effect curves. Ulceration of the epithelium of the lower tongue, corresponding to confluent mucositis, was analysed as clinically relevant endpoint. Additionally, the time course parameters, latent time and ulcer duration were analysed.
Results
DS treatment significantly reduced the incidence of ulcerations. DS application over longer time intervals resulted in a more pronounced reduction of ulcer frequency, increased latent times and reduced ulcer duration.
Conclusion
DS has a significant mucositis-ameliorating activity with pronounced effects on mucositis frequency as well as on time course parameters.