01.12.2018 | Research | Ausgabe 1/2018 Open Access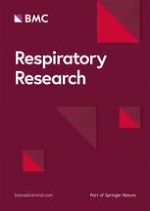 Proteolytic biomarkers are related to prognosis in COPD- report from a population-based cohort
Zeitschrift:
Autoren:

Robert Linder, Eva Rönmark, Jamshid Pourazar, Annelie F. Behndig, Anders Blomberg, Anne Lindberg
Wichtige Hinweise
Electronic supplementary material
Abstract
Background
The imbalance between proteases and anti-proteases is considered to contribute to the development of COPD. Our aim was to evaluate the protease MMP-9, the antiprotease TIMP-1 and the MMP-9/TIMP-1-ratio as biomarkers in relation to prognosis. Prognosis was assessed as lung function decline and mortality. This was done among subjects with COPD in a population-based cohort.
Methods
In 2005, clinical examinations including spirometry and peripheral blood sampling, were made in a longitudinal population-based cohort. In total, 1542 individuals participated, whereof 594 with COPD. In 2010, 1031 subjects participated in clinical examinations, and 952 subjects underwent spirometry in both 2005 and 2010. Serum MMP-9 and TIMP-1 concentrations were measured with enzyme linked immunosorbent assay (ELISA). Mortality data were collected from the Swedish national mortality register from the date of examination in 2005 until 31st December 2010.
Results
The correlation between biomarkers and lung function decline was similar in non-COPD and COPD, but only significant for MMP-9 and MMP-9/TIMP-1-ratio in non-COPD. Mortality was higher in COPD than non-COPD (16% vs. 10%,
p
 = 0.008). MMP-9 concentrations and MMP-9/TIMP-1 ratios in 2005 were higher among those who died during follow up, as well as among those alive but not participating in 2010, when compared to those participating in the 2010-examination. In non-COPD, male sex, age, burden of smoking, heart disease and MMP-9/TIMP-1 ratio were associated with increased risk for death, while increased TIMP-1 was protective. Among those with COPD, age, current smoking, increased MMP-9 and MMP-9/TIMP-1 ratio were associated with an increased risk for death.
Conclusions
The expected association between these biomarkers and lung function decline in COPD was not confirmed in this population-based study, probably due to a healthy survivor effect. Still, it is suggested that increased proteolytic imbalance may be of greater prognostic importance in COPD than in non-COPD.