01.12.2014 | Research | Ausgabe 1/2014 Open Access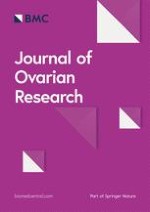 Proteomic identification of fucosylated haptoglobin alpha isoforms in ascitic fluids and its localization in ovarian carcinoma tissues from Mexican patients
Zeitschrift:
Autoren:

Olga Lilia Garibay-Cerdenares, Verónica Ivonne Hernández-Ramírez, Juan Carlos Osorio-Trujillo, Magdalena Hernández-Ortíz, Dolores Gallardo-Rincón, David Cantú de León, Sergio Encarnación-Guevara, Julio César Villegas-Pineda, Patricia Talamás-Rohana
Wichtige Hinweise
Electronic supplementary material
The online version of this article (doi:
10.​1186/​1757-2215-7-27
) contains supplementary material, which is available to authorized users.
Competing interests
The authors declare that they have no competing interests.
Authors' contributions
This work was carried out through the collaboration of all the authors. TRP and GCO were responsible of the research design; GRD and CLD were involved in the design of the protocol to submit to the Ethics and Scientific Committees to get their approval, in the diagnosis, selection, and collection of biological samples. EGS and HOM were involved in mass spectrometry protocols. GCO, HRVI and OTJC carried out the experiments, and together with TRP and VPJC participated in the results interpretation and drafting of the manuscript. All authors had read and approved the final manuscript.
Abstract
Background
Ovarian cancer is the most lethal gynecologic disease due to delayed diagnosis, and ascites production is a characteristic of patients in advanced stages. The aim of this study was to perform the proteomic analysis of ascitic fluids of Mexican patients with ovarian carcinoma, in order to detect proteins with a differential expression pattern in the continuing search to identify biomarkers for this disease.
Methods
Samples were collected from 50 patients from the Instituto Nacional de Cancerología of México under informed consent and with approval of the bioethics and scientific committees. After elimination of abundant proteins (Albumin/IgGs) samples were processed for 2D electrophoresis and further protein identification by Mass Spectrometry (MALDI-TOF). Molecules of interest were followed by western blot and lectin binding assays, and their tissue location by histo-immunofluorescence and confocal analysis.
Results and discussion
An area with a differential expression pattern among samples was located in the 2D gels. Identified proteins were 6 alpha 1 isoforms and 1 alpha 2 isoform of Haptoglobin, and 2 isoforms of Transthyretin. While Transthyretin isoforms were constitutively expressed in all samples, clear differences in the expression pattern of Haptoglobin alpha isoforms were found. Moreover, increased levels of fucosylation of Haptoglobin alpha isoforms analyzed in 40 samples by
Aleuria aurantia
lectin binding by 1D overlay assay showed a positive correlation with advanced stages of the disease. Tissue detection of Haptoglobin and its fucosylated form, by histo-immunofluorescence in biopsies of ovarian cancer, also showed a correlation with ovarian cancer progression. Moreover, results show that fucosylated Haptoglobin is produced by tumor cells.
Conclusions
Increased numbers of highly fucosylated Haptoglobin alpha isoforms in ascitic fluids and the presence of fucosylated Haptoglobin in tumor tissues of ovarian cancer Mexican patients associated with advanced stages of the disease, reinforce the potential of fucosylated Haptoglobin alpha isoforms to be characterized as biomarkers for disease progression.