01.12.2017 | Epidemiology (M Laine, Section Editor) | Ausgabe 4/2017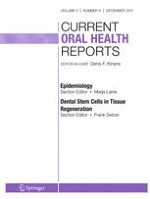 Proteomics of Periodontal Pocket
Zeitschrift:
Autor:

Dimitra Sakellari
Wichtige Hinweise
This article is part of the Topical Collection on
Epidemiology
Abstract
Purpose of Review
This study aims to present and evaluate the findings of the literature referring to proteomic analysis of the periodontal pocket aimed to identify potential biomarkers for periodontal disease.
Recent Findings
A comprehensive examination of data from "shotgun" proteomic analysis has shown that a number of human proteins, previously not extensively investigated in the literature, have emerged as new candidates. Proteins relevant to various biological functions such as actin, profilin, hemoglobin, plastins, alpha-amylase, matrix metalloproteinases, keratins, histones, annexins, antimicrobial peptides including histatins, S-100A9, cathelicidin-related peptide-37 (LL-37), human neutrophil peptides (HNP)-1, -2, and -3, statherin, and cystatins are commonly identified in gingival crevicular fluid (GCF) by proteomic analysis and are upregulated in periodontal disease and therefore could serve as biomarkers.
Conclusions
Proteomic analysis has provided a new insight into the search for biomarkers of periodontal disease presence, progression, prognosis, and endpoints of treatment. Data derived should be validated by larger scale studies, including significant subject samples. These second-stage studies should focus on evaluating the importance of these proposed new biomarkers using standardized procedures.