01.12.2014 | Original Paper | Ausgabe 4/2014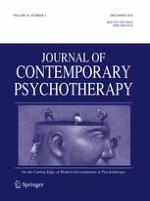 Protesting the Decline While Predicting the Demise of Clinical Psychology: Can We Avoid a Total Collapse?
Zeitschrift:
Autor:

James C. Overholser
Abstract
The present article confronts several areas of concern that could undermine the integrity of clinical psychology. A critical review is provided in the hopes of pushing for change, primarily in the way that academic clinical psychologists conduct their work. Six standards are proposed toward which all members of the clinical psychology faculty should aspire. First, it is important for clinical psychologists to integrate the science and practice of psychology. Second, the training and supervision of all applied skills in clinical psychology assumes that the instructor has remained active in the front-lines delivery of clinical services. Third, it is important to conduct research on clinical samples, striving to understand the mind of patients who are struggling with mental illness. Fourth, it is helpful to retain a modest and flexible view about the potential benefits derived from empirically supported treatments. Fifth, even when accepting a bio-psycho-social model, psychologists should maintain a dominant focus on psychological factors. Sixth, ethical issues pervade many aspects of a professor's work, and it is important to avoid dual relationships that could impair objectivity and professionalism. If these six standards are widely adopted, clinical psychology can remain a strong and vibrant field.