01.12.2018 | Research article | Ausgabe 1/2018 Open Access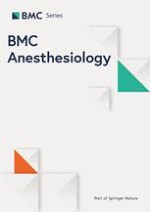 Protocol based evaluation for feasibility of extubation compared to clinical scoring systems after major oral cancer surgery safely reduces the need for tracheostomy: a retrospective cohort study
Zeitschrift:
Autoren:

Axel Schmutz, Rolf Dieterich, Johannes Kalbhenn, Pit Voss, Torsten Loop, Sebastian Heinrich
Wichtige Hinweise
Electronic supplementary material
Abstract
Background
Despite risks, complications and negative impact to quality of life, tracheostomy is widely used to bypass upper airway obstruction after major oral cancer surgery (MOCS). Decision to tracheostomy is frequently based on clinical scoring systems which mainly have not been validated by different cohorts. Delayed extubation in the Intensive Care Unit (ICU) may be a suitable alternative in selected cases. We hypothesize that delayed routine ICU extubation after MOCS instead of scoring system based tracheostomy is safe, feasible and leads to lower tracheostomy rates.
Methods
We retrospectively analyzed our clinical protocol which provides routine extubation of patients after MOCS in the ICU. The primary outcome measure was a composite of early reintubation within 24 h or secondary tracheostomy. Secondary outcome measures included airway obstruction related morbidity and mortality. Predictor variables included tumor localisation, surgical procedure and reconstruction method, length of operation and pre-existing morbidity. Furthermore we assessed the ability of four clinical scoring systems to identify patients requiring secondary tracheostomy. Statistical processing includes basic descriptive statistics, Chi-squared test and multivariate logistic regression analysis.
Results
Two hundred thirty four cases were enclosed to this retrospective study. Fourteen patients (6%) required secondary tracheostomy, Ten patients (4%) required reintubation within 24 h after extubation. No airway obstruction associated mortality, morbidity and cannot intubate cannot ventilate situation was observed. Seventy five percent of the patients were extubated within 17 h after ICU admission. All evaluated scores showed a poor positive predictive value (0.08 to 0.18) with a sensitivity ranged from 0.13 to 0.63 and specificity ranged from 0.5 to 0.93.
Conclusions
Our data demonstrate that common clinical scoring systems fail to prevent tracheostomy in patients after MOCS. Application of scoring systems may lead to a higher number of unnecessary tracheostomies. Delayed routine extubation in the ICU after MOCS seems an appropriate and safe approach to avoid tracheostomy and the related morbidity.