01.12.2018 | Protocol | Ausgabe 1/2018 Open Access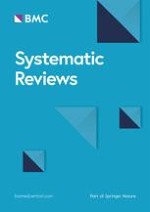 Protocol for a systematic review to identify the barriers and facilitators to deliver bystander cardiopulmonary resuscitation (CPR) in disadvantaged communities
Zeitschrift:
Autoren:

Fiona Dobbie, Kathryn Angus, Isabelle Uny, Edward Duncan, Lisa MacInnes, Liz Hasseld, Gareth Clegg
Wichtige Hinweise
Electronic supplementary material
Abstract
Background
A key determinant of survival after out-of-hospital cardiac arrest (OHCA) is bystander cardio pulmonary resuscitation (CPR) which can more than double an individual's chances of surviving to discharge from hospital. The experience of other international OHCA survival programmes has shown that increasing bystander CPR is strongly associated with an increase in overall survival. However, existing data suggest that the more economically deprived an area is the higher the incidence of cardiac arrest. At the same time, rates of bystander CPR in the same areas are lower, which could result in lower survival rates.
High-profile awareness raising campaigns that are generic focus have not specifically targeted people living in deprived communities who may require more tailored campaigns and interventions to change attitudes and improve confidence to administer bystander CPR. Therefore, this systematic review will explore the facilitators and barriers to engaging with bystander CPR which exist in deprived communities The secondary objective is to identify existing bystander OHCA social marketing and social network intervention campaigns that could inform future activities to improve the rate of bystander CPR in deprived communities.
Methods
Systematic review searching the following databases: CINAHL, MEDLINE, PsycINFO, and Web of Science Core Collection Citation Indexes. Unpublished 'grey' literature will also be sourced through web searches, stakeholder interviews, and an advisory group. The reference lists of any relevant reviews will also be checked for additional studies. References will be restricted to those published in 2000 onwards. Authors will independently screen, assess data quality, and extract data for synthesis. A narrative synthesis of study findings will be conducted, with findings presented thematically.
Discussion
This review will focus on all studies that seek to examine the barriers and facilitators to the delivery of bystander CPR in deprived communities and identify examples of previous interventions or activities that could inform the design of a future theory-based intervention to improve the rate of bystander CPR in deprived communities.
Systematic review registration