01.12.2017 | Review | Ausgabe 1/2017 Open Access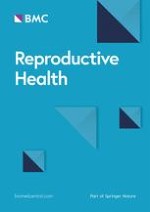 Provider and lay perspectives on intra-uterine contraception: a global review
Zeitschrift:
Autoren:

Marina A. S. Daniele, John Cleland, Lenka Benova, Moazzam Ali
Wichtige Hinweise
Electronic supplementary material
Abbreviations
IUC
Intra-uterine contraception
LARC
Long-acting reversible contraception
OB/GYN
Obstetrician/gynaecologist
PID
Pelvic Inflammatory disease
Plain English summary
This article focuses on intra-uterine contraception (IUC), which involves the use of an intra-uterine device (IUD), a highly effective contraceptive method. The proportion of contraceptive users choosing the IUD varies across the world, but overall it is little used. In this article, we aimed to summarise what is known about the opinions of health-care providers and members of the public concerning IUC. Our aim was to better understand why its use is low and whether there is any scope to promote it further. We conducted a rigorous search of scientific journals and electronic databases in order to identify relevant articles, and found 68.
These studies suggest that many health-care providers are reluctant to recommend the method because they wrongly believe it has negative side effects. Although teenagers and women with no children can use IUC safely, many providers are unwilling to provide it to them. Many members of the general public have low knowledge or misunderstand how IUC works, for example they fear that IUDs cause infertility. Others are worried about how the device is inserted, or about how it alters the menstrual cycle. However, women using IUC are generally satisfied.
These findings are remarkably similar in studies from across the world, and partly explain why the use of IUDs is low. However, they also suggest that providing correct information could reassure people about the method's safety. Therefore, better training for health-care providers and awareness raising among the general public could increase IUC's popularity.
Background
Methods
A search was conducted in mid-December 2015 with the aim to retrieve articles from peer-reviewed journals and grey literature, published from 2010 to 2015 in any country, concerning provider and lay perspectives on IUC, facilitators and barriers, or describing interventions aimed at increasing the uptake and continued use of the method. "Provider perspectives" are those of all cadres of person providing health-care services, including in facilities and in the community. "Lay perspectives" are those of all people who are not health-care providers, including but not limited to users and potential users of contraception. We searched Medline, Popline, Embase and Global Health electronic databases using keywords and subject headings. This search was preceded by a manual search of four journals (Contraception, the European Journal of Family Planning and Reproductive Health Care, Perspectives on Sexual and Reproductive Health, and International Perspectives on Sexual and Reproductive Health) in order to establish key words that would capture the relevant literature. For the database searches, no limitation was set on language, but search terms were in English. Where possible, a limitation was set on keywords being present in the Title or Abstract, and to human subjects. For the detailed search strategy, see Additional file
1
.
Following the elimination of duplicates, the titles and abstracts of 4199 records were individually screened by MD and LB. Studies of safety, efficacy, contraindications and clinical management, and of IUC as emergency contraception were excluded. Studies were retained based on their thematic relevance only, and the quality of the evidence was not systematically graded. The searches resulted in a total of 532 relevant references (Fig.
1
). Excluded articles did not contain specific information related to use of IUC or IUC as part of LARC, or were clinical or biomedical in nature. From the 376 publications for which full texts were reviewed, 68 original studies were included in this review. These were all cross-sectional, descriptive surveys, or qualitative studies. Nine studies reported perspectives of both providers and lay people, 25 studies reported provider perspectives only and 34 studies reported lay people's perspectives only. Details of the studies are in Additional file
2
.
×
Results
Provider perspectives
A total of 34 studies on provider perspectives were identified (including 9 which also reported on lay perspectives). These included 11 publications from the USA and 13 from Asia, Latin America and Africa. A further 7 studies related to European and other high-income countries. Three papers were based on multi-country data.
Knowledge, training and attitudes
Our findings show that many providers across the world have low or uneven levels of knowledge, limited training, and negative attitudes towards IUC, although some choose the method for themselves.
Qualitative studies report that in Cambodia, village health workers share very much the same misconceptions about IUDs as the villagers themselves [
25
], whereas in Pakistan, insufficient training is the main reason for providers' reluctance to provide IUDs, alongside perceived lack of demand [
26
]. Complaints about lack of training were also a common theme in two studies conducted in Ghana [
27
,
28
]. For example, most physicians and midwives at a Kumasi teaching hospital reported limited knowledge, and had never inserted an IUD [
27
]. In South Africa, 32 providers at public sector clinics reported a need for further training, and very few spontaneously mentioned IUC as a method that they would recommend [
29
]. Where specific training has been provided, however, it appears to have a positive impact on attitudes. A study of 27 providers from Kenya, who had been specially trained by the local affiliate of Marie Stopes International (MSI) in the provision of LARC, documented positive attitudes towards the LNG-IUD [
30
].
Providers' own use of IUC is high in certain settings. For example, 61% of German obstetrician/gynaecologists (OB/GYNs) would choose the LNG-IUD for themselves [
31
]. LNG-IUD was the most used method among 1001 surveyed OB/GYNs and general practitioners (GPs) from ten middle-high income countries [
32
]. An association was found between the methods providers used and those they would recommend to clients. However, use of IUC by professionals may not directly correlate with the method's broader popularity. A nationally representative survey in Spain found that use of IUC among health-care providers was almost double the rate seen among the general population [
33
].
Concerns about side effects
One reason why providers are reluctant to recommend IUC may be the belief that the method is linked to serious side effects.
For example, about half of 385 surveyed private sector providers in Bangladesh were of the opinion that IUDs had too many, or too serious, side effects to recommend [
34
]. A common concern is the belief in a link between IUDs and pelvic inflammatory disease (PID), reported in papers from the US [
35
–
37
] and El Salvador [
38
]. Misconceptions about a link to both PID and to infertility were prevalent among providers in Pakistan [
26
]. A nationally representative survey of 765 French OB/GYNs and GPs found that a majority believe IUC to be a risk factor for PID, and also for ectopic pregnancy [
39
]. Finally, a small South African enquiry noted that two-thirds of providers thought that the copper-bearing IUDs represented serious health risks including PID, ectopic pregnancy, and uterine perforation [
29
].
Provision to young and nulliparous women
Provision to other categories of women
The literature also shows that some providers are reluctant to provide IUC to other categories of women who may benefit from the method.
In South Africa and Zimbabwe, for example, 95% of providers consider IUDs inappropriate for those at risk of HIV or HIV-positive [
48
]. Reluctance is also reported in relation to postpartum provision. US studies indicated very low awareness of immediate postpartum or postabortion insertion of IUC as a sound strategy [
42
–
44
], and only 36% of providers at a teaching hospital in Ghana said they would recommend immediate postpartum insertion [
27
].
Finally, a US study showed that the propensity of providers to recommend IUC was conditioned by the ethnicity and social status of patients [
57
]. Health-care providers were more likely to recommend IUC to black and Latina women than to white women, although, paradoxically, among whites they offered it more frequently to higher status patients.
User/lay perspectives
A total of 43 studies on lay perspectives were identified (including 9 which also reported on provider perspectives). This literature is dominated by research from the USA (18 publications), followed by studies from Africa, Latin America and Asia (14), and from European and other high-income countries (11).
Low knowledge and misconceptions
The findings of this review suggest that many women and their partners have low levels of knowledge of IUC and have unfounded misconceptions about the method.
Several US studies found poor knowledge. Surveys have found that 55% of young family planning clients have not heard of the IUD [
58
], and only 20% of women attending primary care know that IUC is more effective than oral contraception [
59
]. Two papers used survey data on young men, finding very poor knowledge on IUC [
60
,
61
]. In one of these, nearly half of participants believed that IUDs were banned in the US [
61
].
Qualitative studies in low/middle-income countries showed a range of concerns about health risks associated with IUDs, including cancer, ectopic pregnancy, infertility and harm to the husband during sex [
25
,
26
,
62
–
65
]. According to a large survey of women and men in Pakistan, the main concern was that IUDs will harm the womb [
66
], and two large surveys in Ethiopia ascertained that one of the main reasons for not using LARC methods was the fear of infertility [
67
,
68
]. Concerns with fertility impairment were also voiced by the majority of respondents to a national survey of young women in France [
69
], and in a mixed-methods study in the US [
70
]. A UK survey of 502 young women documented more negative attitudes towards IUC than towards injectables or implants, although all three methods invoked concerns about fertility impairment [
71
].
While discreetness is considered to be a positive feature by French users of IUC [
72
], studies from around the world report that many other women are concerned about the fact that the IUD is positioned inside the body. The authors of a study conducted on the Thai-Burmese border concluded that this idea fostered imagined and exaggerated fears [
63
]. A US-based online survey of non-IUD users found that the position of the device worried them [
73
], a concern also emerging from several qualitative studies from the US [
54
,
74
–
76
] and Europe [
77
]. A small study of abortion patients in Scotland found that 24% believed that the device could move around the body [
78
].
Concerns about insertion and removal
Findings suggest that some women are concerned about procedures for insertion and removal of IUC and about the need for involvement of a health-care provider.
Among 617 postpartum women surveyed in Kenya, the major reasons for choosing an implant over an LNG-IUD were less pain, less infringement of modesty, and preference for a superficial insertion in the arm [
79
]. Pain during insertion is also a concern identified in qualitative and mixed-methods studies from the US and Europe [
54
,
70
,
71
,
74
–
77
]. In Scotland, 34% of abortion patients in a small survey thought the insertion would be painful [
78
].
A US-based online survey of non-IUD users found that the need for provider insertion and removal is itself considered a disadvantage [
73
], and two surveys of abortion-seekers in the US found that self-removal of IUC would enhance the appeal of the method [
80
,
81
]. In Cambodia, women were concerned that staff would refuse to remove the device [
25
].
Benefits and disadvantages of IUC compared to other methods
Compared to studies seeking the views of the general population, those focused on women currently using or interested in using IUC report that the method has several perceived advantages and few disadvantages.
Qualitative studies from Cambodia, Pakistan, Nigeria, Madagascar and the Thailand-Burma border showed that users appreciated IUDs because of their effectiveness and long-acting nature [
25
,
26
,
62
–
65
]. These qualities were among the main positive features mentioned by users in six surveys conducted in the US, the UK, Australia and Pakistan [
73
,
82
–
84
]. The method's forgettability also contributed to satisfaction among users of IUC in the US and France [
72
,
85
].
In addition, a qualitative study of users and non-users in seven European countries found that the perceived advantages of the LNG-IUD include its compatibility with breastfeeding and a quick return to fertility upon removal [
77
]. Rapid return to fertility was also mentioned in the study from Nigeria [
62
], while in Kenya, postpartum women choosing LNG-IUD over implants believed that the method had fewer side effects [
79
]. On the other hand, respondents from the UK and other European countries reported the lack of protection against STIs as a disadvantage of IUC [
77
,
84
].
The effect on menses
The literature suggests that women's preferences may vary in relation to the effect of the different types of IUDs on menses.
One of the most comprehensive US surveys suggests that women who want to avoid irregular bleeding are less likely to choose the copper-bearing IUD [
82
]. Menstrual irregularity was the main complaint among users of IUC in a survey in France, though the type of device was not specified [
72
], and acted as a disincentive preventing young women in the UK from choosing LARC methods [
71
]. A qualitative study found that some US women choosing an LNG-IUD welcomed the possibility of amenorrhea, while those choosing a copper-bearing IUD were motivated by a desire to retain regular menses [
85
]. While light, less painful periods are among the most desirable features of contraceptive methods according to Australian women [
83
], the suppression of regular menses by the LNG-IUD evokes mixed feelings among teens and Latina women in the US [
54
,
88
], and is seen as a disadvantage in Europe [
77
]. However, a cohort study of postpartum women in Kenya found that LNG-IUD users were more likely to find their bleeding pattern highly acceptable, compared to implant users [
89
].
The influence of peers and providers
Our findings suggest that peers and providers strongly influence women's decision to use IUC.
In the US, a survey of abortion clients showed that disclosure of personal use of IUC by a provider increased their likelihood of choosing this method [
90
]. Another US-based survey of women of reproductive age found that the few women who had been counselled on IUC and those who had talked to a user of IUC were more knowledgeable about the method [
59
].
However, qualitative studies from low-income settings have shown that while providers are regarded as useful sources of information, reassurance from friends or relatives who have used IUDs is a crucial factor in attitude formation [
62
–
64
]. In Madagascar, the availability of a family planning counsellor or friend to accompany the woman to the clinic for insertion was also important [
64
]. US-based qualitative studies show that social networks are a valued source of information, though negative conversations may be more memorable than positive ones [
76
,
91
].
On the other hand, a survey conducted in five European countries found that male partners have relatively little influence on choice of IUC, given that about 80% of women do not involve their partners in decisions to use female-controlled methods [
92
]. Finally, a survey of 261 parents or guardians from the US found that IUC was the least acceptable method, among seven, for their teenage daughter [
93
].
Discussion
Finally, the review has identified substantial gaps in the evidence. In low- and middle-income countries, research data on provider and lay perspectives on IUC and other methods is very patchy. In view of the scale of investment in family planning in these countries, it is astonishing how little attention has been paid to ascertaining the views of women on specific properties of contraceptive methods and what considerations are most important in choosing a method. Similarly, further studies on provider knowledge, beliefs, attitudes, and personal use regarding specific methods are justified. For example, papers from USA and Europe indicate that the method chosen by providers for their own use influences their recommendations to women. Yet almost nothing is known about the contraceptive choices made by many thousands of family planning staff in Asia, Africa, and Latin America.
Conclusions
This review systematically explored recently published literature about provider and lay perspectives on IUC. It reveals overall low or inaccurate knowledge and misconceptions about the method as reported by studies from across the world, but good levels of satisfaction among users. Given that many people's negative opinions of IUDs are based on incorrect information, it seems likely that concerted efforts to improve awareness and understanding of IUC among women and in communities would boost its popularity. At the same time, increased training and on-the-job support for providers would increase their willingness to recommend the method, thus stimulating demand. Further research is needed on provider and lay perspectives on IUDs and other methods, especially in low- and middle-income countries.
Acknowledgements
Not applicable.
Funding
The study was funded by the UNDP-UNFPA-UNICEF-WHO-World Bank Special Programme of Research, Development and Research Training in Human Reproduction (HRP), a cosponsored program executed by the World Health Organization.
Availability of data and materials
Not applicable.
Disclaimer
This report contains the collective views of the authors, and does not necessarily represent the decisions or the stated policy of the World Health Organization.
Ethics approval and consent to participate
Not applicable.
Consent for publication
Not applicable.
Competing interests
The authors declare that they have no competing interests.
Publisher's Note
Springer Nature remains neutral with regard to jurisdictional claims in published maps and institutional affiliations.
Open Access
This article is distributed under the terms of the Creative Commons Attribution 4.0 International License (
http://​creativecommons.​org/​licenses/​by/​4.​0/​
), which permits unrestricted use, distribution, and reproduction in any medium, provided you give appropriate credit to the original author(s) and the source, provide a link to the Creative Commons license, and indicate if changes were made. The Creative Commons Public Domain Dedication waiver (
http://​creativecommons.​org/​publicdomain/​zero/​1.​0/​
) applies to the data made available in this article, unless otherwise stated.