01.05.2008 | Ausgabe 3/2008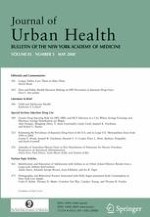 Provision and Use of Maternal Health Services among Urban Poor Women in Kenya: What Do We Know and What Can We Do?
Zeitschrift:
Autoren:

PhD Jean Christophe Fotso, Alex Ezeh, Rose Oronje
Wichtige Hinweise
Fotso, Ezeh, and Oronje are with the African Population and Health Research Center (APHRC), Nairobi, Kenya.
Abstract
In sub-Saharan Africa, the unprecedented population growth that started in the second half of the twentieth century has evolved into unparalleled urbanization and an increasing proportion of urban dwellers living in slums and shanty towns, making it imperative to pay greater attention to the health problems of the urban poor. In particular, urgent efforts need to focus on maternal health. Despite the lack of reliable trend data on maternal mortality, some investigators now believe that progress in maternal health has been very slow in sub-Saharan Africa. This study uses a unique combination of health facility- and individual-level data collected in the slums of Nairobi, Kenya to: (1) describe the provision of obstetric care in the Nairobi informal settlements; (2) describe the patterns of antenatal and delivery care, notably in terms of timing, frequency, and quality of care; and (3) draw policy implications aimed at improving maternal health among the rapidly growing urban poor populations. It shows that the study area is deprived of public health services, a finding which supports the view that low-income urban residents in developing countries face significant obstacles in accessing health care. This study also shows that despite the high prevalence of antenatal care (ANC), the proportion of women who made the recommended number of visits or who initiated the visit in the first trimester of pregnancy remains low compared to Nairobi as a whole and, more importantly, compared to rural populations. Bivariate analyses show that household wealth, education, parity, and place of residence were closely associated with frequency and timing of ANC and with place of delivery. Finally, there is a strong linkage between use of antenatal care and place of delivery. The findings of this study call for urgent attention by Kenya's Ministry of Health and local authorities to the void of quality health services in poor urban communities and the need to provide focused and sustained health education geared towards promoting use of obstetric services.