01.11.2010 | Original Research | Ausgabe 11/2010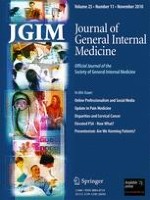 Proximal Tumors Are Associated with Greater Mortality in Colon Cancer
Zeitschrift:
Autor:

MD Robert Wong
ABSTRACT
BACKGROUND
Colon cancer is the third leading cause of death from cancer in the United States. Recent studies report on increasing proportions of proximal cancers. The etiology behind this epidemiological trend is unclear, and its implication on survival outcomes is unknown. Further analysis of the impact of anatomic site of disease among a large multiethnic population will help facilitate research and education to improve colon cancer screening and treatment.
OBJECTIVE
To investigate the association between proximal tumor location and survival in patients with colon cancer.
DESIGN AND PARTICIPANTS
A large retrospective cohort study in the US utilizing the Surveillance, Epidemiology, and End Results (SEER) cancer registry analyzed survival outcomes of patients with colon cancer. Multivariable logistic regression analyses investigated sex-specific, race/ethnicity-specific, and anatomic site-specific disparities in survival.
MAIN MEASURES
Five-year survival outcomes from colon cancer.
RESULTS
Our study demonstrated significant disparities in survival by sex, race/ethnicity, and anatomic site. Across all time periods and among most cohorts, patients with proximal cancers had significantly worse survival outcomes. When compared to distal cancers, patients with proximal cancers were 13% less likely to survive 5 years (OR 0.87; 95% CI, 0.82–0.91). When compared to non-Hispanic whites, blacks were 30% less likely to survive 5 years (OR 0.70; 95% CI, 0.68–0.73). Stage-specific multivariable regression analysis of localized cancers demonstrated similar findings.
CONCLUSIONS
Significant race-specific, sex-specific, and anatomic site-specific disparities in colon cancer survival exist. Proximal cancers are associated with worse survival odds. These disparities may reflect differences in the genotype and phenotype of colon cancer among these groups. A modified risk assessment tool that incorporates these variations may be more effective in the early detection and treatment of colon cancer.