01.12.2014 | Research | Ausgabe 1/2014 Open Access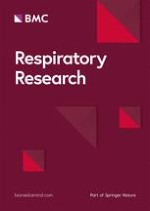 Pseudomonas aeruginosa

elastase causes transient disruption of tight junctions and downregulation of PAR-2 in human nasal epithelial cells
Zeitschrift:
Autoren:

Kazuaki Nomura, Kazufumi Obata, Takashi Keira, Ryo Miyata, Satoshi Hirakawa, Ken-ichi Takano, Takayuki Kohno, Norimasa Sawada, Tetsuo Himi, Takashi Kojima
Wichtige Hinweise
Electronic supplementary material
The online version of this article (doi:
10.​1186/​1465-9921-15-21
) contains supplementary material, which is available to authorized users.
Competing interests
The authors declare that they have no competing interest.
Authors' contributions
KN and TK carried out the genetic cell biological studies and drafted the manuscript. KO, RM and SH participated in cell culture. KT participated in the design of the study and performed the statistical analysis. TH and SN conceived of the study, and participated in its design and coordination and helped to draft the manuscript. All authors read and approved the final manuscript.
Abstract
Background
Pseudomonas aeruginosa
causes chronic respiratory disease, and the elastase enzyme that it produces increases the permeability of airway epithelial cells owing to the disruption of tight junctions.
P. aeruginosa
is also implicated in prolonged chronic rhinosinusitis. However, the effects of
P. aeruginosa
elastase (PE) against the barrier formed by human nasal epithelial cells (HNECs) remain unknown.
Methods
To investigate the mechanisms involved in the disruption of tight junctions by PE in HNECs, primary cultures of HNECs transfected with human telomerase reverse transcriptase (hTERT-HNECs) were used. The hTERT-HNECs were pretreated with inhibitors of various signal transduction pathways, PKC, MAPK, p38MAPK, PI3K, JNK, NF-κB, EGF receptor, proteasome, COX1 and COX2 before treatment with PE. Some cells were pretreated with siRNA and agonist of protease activated receptor-2 (PAR-2) before treatment with PE. Expression and structures of tight junctions were determined by Western blotting, real-time PCR, immunostaining and freeze-fracture. Transepithelial electrical resistance (TER) was examined as the epithelial barrier function.
Results
PE treatment transiently disrupted the epithelial barrier and downregulated the transmembrane proteins claudin-1 and -4, occludin, and tricellulin, but not the scaffold PDZ-expression proteins ZO-1 and -2 and adherens junction proteins E-cadherin and β-catenin. The transient downregulation of tight junction proteins was controlled via distinct signal transduction pathways such as the PKC, MAPK, PI3K, p38 MAPK, JNK, COX-1 and -2, and NF-κB pathways. Furthermore, treatment with PE transiently decreased PAR-2 expression, which also regulated the expression of the tight junction proteins. Treatment with a PAR-2 agonist prevented the downregulation of the tight junction proteins after PE treatment in HNECs.
Conclusions
PE transiently disrupts tight junctions in HNECs and downregulates PAR-2. The transient disruption of tight junctions by PE might occur repeatedly during chronic rhinosinusitis.