01.12.2017 | Case report | Ausgabe 1/2017 Open Access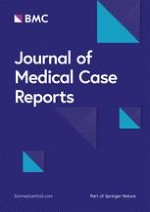 Pseudomonas oryzihabitans

sepsis in a 1-year-old child with multiple skin rashes: a case report
Zeitschrift:
Autoren:

Michael Owusu, Ellis Owusu-Dabo, Godfred Acheampong, Isaac Osei, John Amuasi, Nimako Sarpong, Augustina Annan, Hsin-Ying Chiang, Chih-Horng Kuo, Se Eun Park, Florian Marks, Yaw Adu-Sarkodie
Abstract
Background
Pseudomonas oryzihabitans
is a
Pseudomonas
bacterial organism rarely implicated in human infections. The bacterium has been isolated in a few reported cases of neurosurgical infections and patients with end-stage cirrhosis, sickle cell disease, and community-acquired urinary tract infections. Limited information exists in developing countries, however, because of the lack of advanced microbiological tools for identification and characterization of this bacterium. This case report describes the isolation of a rare
Pseudomonas
bacterium in a patient presenting with sepsis and skin infection.
Case presentation
A 1-year-old girl was presented to a hospital in the northeastern part of Ghana with a 1-week history of pustular rashes on her scalp and neck, which occasionally ruptured, along with discharge of yellowish purulent fluid. The child is of Mole-Dagbon ethnicity and hails from the northern part of Ghana.
Pseudomonas oryzihabitans
was identified in the patient's blood culture using the 16S ribosomal deoxyribonucleic acid sequencing technique. The rash on the patient's scalp and skin resolved after continuous treatment with gentamicin while her condition improved clinically.
Conclusions
This finding suggests the potential of this bacterium to cause disease in unsuspected situations and emphasizes the need to have evidence for the use of the appropriate antibiotic in clinical settings, particularly in rural settings in Africa. It also brings to the fore the unreliability of conventional methods for identification of
Pseudomonas
bacteria in clinical samples and thus supports the use of 16S ribosomal deoxyribonucleic acid in making the diagnosis.