24.03.2020 | Gastrointestinal | Ausgabe 8/2020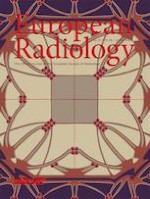 Pseudomyxoma peritonei: visceral scalloping on CT is a predictor of recurrence after complete cytoreductive surgery
Zeitschrift:
Autoren:

Masatoshi Hotta, Ryogo Minamimoto, Yoshimasa Gohda, Tsuyoshi Tajima, Tomomichi Kiyomatsu, Hideaki Yano
Wichtige Hinweise
Publisher's note
Springer Nature remains neutral with regard to jurisdictional claims in published maps and institutional affiliations.
Abstract
Objectives
Pseudomyxoma peritonei (PMP) is characterized by peritoneal dissemination of gelatinous ascites following rupture of a mucinous tumor. Treatment by cytoreductive surgery (CRS) has improved its prognosis. Although visceral scalloping, notably liver scalloping, on computed tomography (CT) is a typical feature of PMP, its prognostic value remains unknown. We aimed to investigate the efficacy of liver scalloping in predicting recurrence in PMP patients.
Methods
Among 159 consecutive patients with PMP who had contrast-enhanced CT between September 2012 and December 2018, 64 treatment-naïve patients who subsequently underwent CRS with complete resection (i.e., completeness of cytoreduction score (CC)-0 or CC-1), were included in analysis. Presence of liver scalloping and maximum thickness of mucin deposition at the liver surface were evaluated on CT. Disease-free survival (DFS) was determined based on the combination of postoperative CT features and tumor marker values.
Results
Median follow-up was 24.3 months. CT revealed liver scalloping in 40/64 (63.4%) patients. Kaplan–Meier analysis showed significantly shorter DFS in patients with scalloping than in those without (
p
 = 0.001; hazard ratio, 4.3). In patients with scalloping, greater mucin deposition (thickness ≥ 20 mm) significantly correlated with poorer DFS (
p
 = 0.042). In multivariate Cox proportional hazards regression including CC status, pathologic type, and tumor markers, the presence of scalloping independently and significantly correlated with DFS (
p
 = 0.031).
Conclusions
Liver scalloping was an independent predictor even after adjusting for clinical covariates. The presence of liver scalloping can lead to a high recurrence rate after CRS.
Key Points
• The presence of liver scalloping is a prognostic factor independent of histological grade and tumor markers.
• Greater mucin deposition
(
thickness ≥ 20 mm at the liver surface
)
is associated with higher recurrence rates in patients with liver scalloping.