01.12.2017 | Research article | Ausgabe 1/2017 Open Access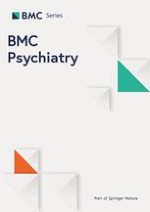 Psychiatric readmissions and their association with physical comorbidity: a systematic literature review
Zeitschrift:
Autoren:

Lilijana Šprah, Mojca Zvezdana Dernovšek, Kristian Wahlbeck, Peija Haaramo
Wichtige Hinweise
Electronic supplementary material
The online version of this article (doi:
10.​1186/​s12888-016-1172-3
) contains supplementary material, which is available to authorized users.
Abbreviations
BDI
Beck Depression Inventory
CEPHOS-LINK
Project: "Comparative Effectiveness Research on Psychiatric Hospitalisation"
COPD
Chronic obstructive pulmonary disease
ECT
Electroconvulsive therapy
HIV
Human immunodeficiency virus
ICD
International Classification of Diseases
MDD
Major depressive disorder
Background
In the literature we can notice a diverse use of terminology for mental and physical health conditions: mental disorder, mental illness, mental impairment, psychiatric disorder, psychological disorder, somatic condition, medical condition, physical illnesses, etc. In our study, we mainly used terms: mental and physical disorders, unless when referring to studies where authors or the context required different terminology. Mental disorders comprise a broad range of problems, with different symptoms (reflecting in various categories of diagnoses/diseases). However, they are generally characterized by some combination of abnormal thoughts, emotions, behaviour and relationships with others. For the purposes of our literature review it was most suitable to use the term mental disorders allowing us to include different characteristics of psychiatric patients described in reviewed studies (e.g., diagnoses, symptoms, diseases, etc.).
Method
Search methods for identification of studies
Comprehensive literature searches were conducted in the electronic bibliographic databases Ovid Medline, PsycINFO, ProQuest Health Management and OpenGrey. In addition, Google Scholar was utilized. Relevant publications published between January 1990 and June 2014 were included.
Studies on the association between mental health and readmission were searched using combinations of keywords (used as MeSH terms or free text, depending on the database) describing mental health services and readmission. For more detailed description of the search terms please see Additional files
1
and
2
(Detailed search strategies and Detailed search strategy for articles on physical comorbidity). In addition, the reference lists of all included articles were manually checked for additional studies.
Criteria for considering studies for review on physical comorbidity
Studies on readmission (to a psychiatric or non-psychiatric bed) after discharge from psychiatric, general or specialised inpatient care were included in this review. The original discharge had to be one with a main psychiatric diagnosis and additional medical diagnoses (both diagnosed using for example the ICD-10 system [
49
]) or medical conditions relevant for physical comorbidity. Admissions to day hospitals or community programmes were not considered as readmissions.
Quantitative longitudinal studies were selected for this systematic review, including both observational and intervention studies. Qualitative studies, case reports, papers not including original data, such as editorials, letters to the Editor and commentaries were excluded. The same applies to the studies that were not published as full reports. Three review papers were retrieved from initial search. They were excluded because physical comorbidity was not included among reviewed characteristics of psychiatric readmission.
Several medical conditions relevant for physical comorbidity (physical comorbidity variables) were considered at admission, at discharge and at readmission. They can be grouped into three core categories:
a) Medical diagnoses (according to codes from International Classification of Diseases – ICD codes, DSM IV / Axis III (medical condition) classification) [
47
]
b) Physical conditions (specified medical illnesses without classification codes e.g., cardiovascular disease, cardiac problems, diabetes, trauma, nutritional and metabolic diseases, etc.)
c) Variables describing the burden of medical illness indicated as "Number of medical diagnoses", "Physical health problems", "Charlson Comorbidity Index", "Number of somatic complaints".
Only studies examining adult populations (age ≥ 18 years) were included in the review. In the case of studies examining also adolescents we included these studies in the review if the reported mean age in the cohort was at least 18 years.
A primary outcome of interest was related to the existence or not of a link between physical comorbidities and readmission to inpatient hospital care (psychiatric or non-psychiatric/general), and the studies that did not report results on readmission were thus excluded.
In addition we included in the review also studies that addressed physical comorbidity only at admission / discharge. This aspect of the review was carried out due to the fact that we were attentive also in identifying which variables of physical comorbidities were observed in association with psychiatric conditions in order to identify those possible specific physical conditions that may be related to certain mental disorder.
No restrictions regarding language or publication status were used in the original searches. However, a few studies had to be excluded from the final examination because translation was not available into any of the language mastered by the multi-lingual research team (e.g., from Chinese). In the end, all but one of the included studies were written in English. The only non-English study was in Spanish. The flow of studies through the selection process is detailed in Fig.
1
the PRISMA flow-chart; [
48
].
×
Data collection and analysis
Two pairs of researchers [LŠ, RS and VD, EL] independently screened all abstracts. Full-texts were screened, if necessary to establish the eligibility of articles. In a subsequent step full text of all candidate papers were retrieved and independently screened by two researchers [LŠ, MZD]. Discrepancies were resolved by discussion by these two researchers, until agreement on inclusion or exclusion of the study was reached.
Available structured data on physical comorbidity variables associated with readmission were extracted from the included studies and entered into an evidence evaluation table independently by two researchers [LŠ, MZD]. The evidence evaluation table included the following information: study period, study design, type of study (observational/ interventional), characteristics of study population, time to follow-up, inclusion/exclusion criteria, main outcomes, number of participants, age and gender distribution in the data, included diagnostic groups/diagnostic distribution, physical comorbidity variables included in the study, readmission rate, used readmission time/time since discharge, key factors affecting readmission, mortality rate, description of performed statistical analyses, and countries in which the included studies were carried out.
An integrative research review was conducted since meta-analysis was not feasible due to the heterogeneity of the studies and low number of data observations associated with physical comorbidity variables.
Results
Discussion
This systematic review was conducted in order to synthesize the available research data on medical and physical comorbidity as risk factors that could be linked with hospital readmission of patients with comorbid psychiatric and medical conditions. Accordingly the relationships between psychiatric diagnoses and specific physical comorbidities that have been identified through this review only refer to hospitalized patients. Our literature review, irrespective of very diverse applied approaches in reviewed studies and limited generalizability, revealed also some recognizable trends in mental and physical disorder conditions.
Among 734 records identified through database searching only 23 studies documented physical comorbidity as a variable which was analysed at admission/discharge of patients with the main psychiatric diagnosis. Of these, 17 studies documented physical comorbidity also at readmission. Thus, several studies on psychiatric readmission included data on physical comorbidity within exclusion criteria. Some studies did check the Charlson Comorbidity Index at admission/discharge, predominantly to ensure that studied groups of patients did not significantly differ in medical comorbidity as authors considered it as a confounding variable [
64
–
66
]. Since our interest was also to examine if there are any specific physical conditions that may be related to particular mental disorders, we included 6 studies in our review where medical problems were recorded only at admission / discharge without being analysed from the perspective of readmission risk. In 23 of the reviewed studies we found a variety of applied aspects regarding comorbidity construct, selection of index population, source of data, outcome measures and research questions, study design, duration of follow up period, patient's sociodemographic characteristics, etc. The majority of papers were not representative of the general psychiatric population discharged from an inpatient service. Generalizability is limited since reported results from several papers can be considered as biased according to: a) included categories of psychiatric diagnoses (only particular diagnoses were included from the whole psychiatric admitted population); b) gender inclusion (some studies were performed with only or predominantly in male or female groups of patients; c) age range (some studies included only a specific age-group e.g., the elderly); d) inclusion of different follow-up periods after discharge (from less than one month to several years); e) association of readmission risk with implemented study design (e.g., different inclusion / exclusion criteria, applied statistical models and source of data); f) scarce data on medical condition of included populations; g) geographical scope of included studies (uneven inclusion of studies from different countries, e.g., 61% of included studies in the review were performed in USA); h) applied concept of comorbidity (different models have been used with different types of variables, e.g., number of medical diagnoses, Charlson Comorbidity Index, specified medical diagnoses with or without ICD codes, etc.).
Complex pathways of comorbid mental and physical disorder conditions
Studies included in this systematic review reported a broad spectre of co-occurring physical and mental disorder 'conditions. Physical conditions consisted mainly of chronic noncommunicable disorders: cardiovascular disease, hypertension, diabetes, hyperthyroidism, hypothyroidism, high cholesterol, obesity, cellulitis, chronic lung conditions, chronic obstructive pulmonary disease, asthma, hepatitis C virus (HCV) infection, hepatitis B, HIV(+), epilepsy, skin and subcutaneous tissue diseases, infectious parasitic diseases, digestive diseases, liver disease, gastritis. The examined mental disorder conditions fell predominantly into the category of chronic, disabling and prevalent mental disorders: SUD, mood disorders (major depression, bipolar mood disorder), SMI (schizophrenia, bipolar mood disorder, schizoaffective disorder and personality disorders).
The pathways leading to comorbidity of mental and physical disorders are in several aspects interrelated. A broader insight into the dynamic of mental and physical comorbid conditions and its consequences can be reached when also taking into account outcomes from studies which examined readmission risk in patients with medical index disease and comorbid mental disorder. Two main characteristics can be noticed in the literature in this respect:
Firstly, the pathways leading to comorbidity of mental and physical disorders are complex and often bidirectional [
70
]. Epidemiological studies have been important in examining these pathways. For instance, physical conditions with a high symptom burden, such as migraine or back pain, might lead to depression [
71
] while major depression could represent a risk factor for developing a physical condition, such as cardiovascular disease [
72
].
Secondly, the course of comorbid mental disorder and physical conditions could be influenced by each other, leading to a worsening of either mental disorder and/or physical condition, consequently leading to hospital readmission due to non-psychiatric reasons. That could be demonstrated through proxy: longer hospital stay, frequent hospital readmission and increased mortality. For example, persons with bipolar mood disorder had a more severe course of disease, a higher total number of in-hospital deaths and a substantial higher burden of comorbidities [
73
]. Wells et al. [
74
] reported that depressive symptoms had an independent additive effect on the physical and social functioning of patients with chronic medical illness. Bipolar disorder was found at greater risk of subsequent hospitalization with hyperthyroidism [
55
]. Increased hospital mortality and readmission risk in patients with comorbid heart condition and depression were described in some other studies [
18
,
46
,
75
].
The influence of comorbidity physical variables on readmission
Patients with mental disorders have been recognized in several studies as a vulnerable population for increased risk of readmission if they had co-occurring medical conditions [
33
,
35
,
50
,
60
,
61
,
63
]. However, some studies in our review did not show that trend. In the study of Jaramillo et al. [
51
] it was demonstrated that having comorbidity with any medical condition reduces the readmission risk. Authors associated the protective effect of the medical comorbidity presence with two possible causes: a) most patients had comorbid epilepsy or thyroid problems, conditions which, if not properly controlled increase the risk of decompensation of psychotic or affective; b) having a medical condition may be related to better adherence to treatment, taking into account the possibility that the patient does not have the stigma of psychiatric diagnosis. In the study of Brennan et al. [
59
] a similar trend was observed, indicating that the burden of medical disease not necessarily increases the psychiatric readmission, since less medical diagnoses did increase the risk of mental disorder readmissions in elderly with SUD diagnosis in both genders.
Co-occurring psychiatric and physical conditions are described as a common condition also in studies with medical inpatients as index populations [
36
]. A range of studies revealed that pre-existing or co-occurring mental disorder may worsen the course of medical illness and can be seen as risk factor for readmission. For example in the recent study of Ahmedani et al. [
76
], the rate of readmission in patients with heart failure, acute MI, and pneumonia was 5% greater for individuals with a psychiatric comorbidity. Some studies reported that the risk of rehospitalisation among patients with COPD was increased in subjects with anxiety [
77
] and that patients hospitalized with a primary medical diagnosis and any co-occurring SMI were more likely to experience a subsequent medical hospitalization [
78
].
Regardless of the 52% of studies included in a systematic literature review showing that physical comorbidity may be associated with hospital readmission, it should be noted that the most common physical comorbidity variables with higher probability for readmission were mostly associated with specific categories of psychiatric diagnoses (Table
1
). Thus non specified medical illness, somatic complaints, number of medical diagnoses and hyperthyroidism were associated with higher readmission risk in patients with main psychiatric diagnosis of depression or bipolar disorder. Discharged patients with SMI diagnoses and a higher Charlson Comorbidity Index score, somatic complaints and physical health problems have been reported at increased risk of subsequent hospital admission. Chronic lung conditions, hepatitis C virus (HCV) infection, hypertension and number of medical diagnoses were associated with readmission risk in patents with SUD.
Methodological issues in studies with comorbid conditions
The comorbidity between mental and physical disorders is an important field in everyday medical practice and it is recognised as important topic in psychiatry. Notably in psychiatric practise the term comorbidity can also be used to indicate the coexistence of two or more psychiatric diagnoses which is arguably inappropriate. Because in most cases it is unclear whether the coexisting diagnoses actually reflect the presence of distinct clinical entities or refer to multiple manifestations of a single clinical entity. In psychiatric classification, comorbidity does not necessarily indicate the presence of multiple diseases, but instead can reflect current inability of psychiatrists to supply a single diagnosis that accounts for all symptoms [
79
].
Studies included in the present review addressed co-occurring psychiatric and physical conditions within a constructs which are related to different aspects of comorbidity [
27
]: comorbidity, multimorbidity, morbidity burden and patient's complexity, implying a diverse understanding of comorbidity variables that might affect the readmission. This fact requires some caution in generalizing and understanding of the nature of the co-occurring mental and physical disorder conditions and their potential impact on hospital readmissions. The review revealed that different constructs of comorbidity were applied which limits a comparison of results on the possible impact of physical comorbidity regarding the psychiatric readmissions. In addition, authors did not describe why they selected particular comorbidity construct. Possibly that also the availability of data source influenced their choice.
Studies on comorbidity may be hampered by the so-called Berksons bias [
80
]. Patients who have been diagnosed with a disorder (e.g., depression) have greater chances of being diagnosed with a second disorder (e.g., diabetes) compared to subjects for whom no diagnosis has been made, as a doctor sees patients more often. Only one study [
56
] applied this criterion in the research protocol where patients with osteoarthritis were chosen as a control group due to its chronic and progressive nature, and because the disease and the treatment do not, as far as known, cause any biological affection on the brain and mood.
Study limitations
Prospective studies on readmission in patients with co-occurring physical and mental disorders are not rare, but only a few examined the association between physical conditions and psychiatric readmissions. In the reviewed studies outcomes varied considerably, possibly because of differences in applied methods, data collection, definition of comorbidity and the number of chronic conditions included in analysis. In this regard, more high quality research is needed in the future to understand the associations between physical comorbidities and psychiatric readmissions.
Two main limitations of the present literature review need to be acknowledged. Firstly, although the methods for searching the literature were valid, we cannot be certain that all relevant studies on co-occurring psychiatric and medical conditions associated with readmission have been identified. Secondly, in the review included studies addressing co-occurring psychiatric and physical conditions within different comorbidity constructs. This circumstance requires some caution in terms of generalizing of results since small number of studies has been retrieved (
n
 = 23), with diverse study protocols, different concept of comorbidity, index population, and follow up periods.
Since, to our knowledge, there are no previous systematic reviews in this area, this is the first systematic attempt taking into account all literature addressing the impact physical comorbidities on hospital readmission of patients with psychiatric diagnoses. The presented review covers publications over a more than 20 year period and provides a broad and systemised reporting of different aspects of co-occurring psychiatric and medical conditions in association with hospital readmission of patients with psychiatric diagnosis. In addition, the present systematic review addresses also different concepts on comorbidity. This provides an additional explanation on diversity of research results we are facing with, when co-existing physical and mental disorder conditions are studied in respect to hospital readmissions.
Conclusions
Co-occurrence of mental and physical disorder conditions is very common in a clinical setting. However, the exact nature of the relationship between them is very complex and so far still not well understood. This vagueness is also reflected in the understanding of the influence that some physical comorbidities may have on psychiatric readmission. In this respect it is important to apply an adequate model of comorbidity, since various factors such as unhealthy lifestyle habits, psychotropic medication, and inadequate medical treatment or provision may have an important influence on readmission rates in psychiatric study population.
So far, very little work has been done on physical comorbid conditions among readmitted patients with mental disorders since comorbidity was seldom the main objective of studies, making it difficult to draw a solid conclusion about actual impact of physical comorbidity on readmission in psychiatric populations. Nevertheless, physical comorbid conditions seem to be more common among readmitted psychiatric patients than single admission patients, their association with readmission can vary according to the nature of mental disorders, characteristics of study population and study protocol.
The main body of reviewed studies supported the hypothesis that patients with mental disorders are at increased risk of readmission if they had a co-occurring medical condition, higher Charlson Comorbidity Index score, in and more medical diagnoses. Additionally, comorbidity is generally associated with mortality, quality of life, and health care but the consequences of specific disease combinations depend on many issues. The scarcity of eligible studies on psychiatric readmission and its association with physical conditions became apparent during performance of this review. It may be related also to the fact that several studies in this field did include the presence of physical comorbidities within the exclusion criteria. Namely, at admission/discharge have been documented several different types of physical comorbidity variables mainly in order to describe the study population, or to ensure that included samples matched in main medical conditions, or to describe a basic medical characteristics of index population. Due to the importance of the physical comorbidity issue in patients with mental disorders it would be advisable to include more variables on physical comorbidity in the future outcome research of mental disorders in naturalistic setting.
The impact of physical comorbidity on psychiatric readmission is still insufficiently investigated problem. But there is a growing interest among practitioners and researchers in the impact of physical comorbidity on a variety of outcomes in mental disorders, such as mortality, health-related quality of life and health care spending, which is substantially higher for patients with comorbid conditions [
39
]. The comorbidity of mental and physical disorders is on the increase and as pointed out by Sartorius [
81
] this issue is becoming a main challenge to medicine in the 21st Century.
Future research should address these topics with more in-depth studies since new insights in this field could lead to better prevention strategies to reduce psychiatric readmissions. From a clinical perspective it would be very useful to be able to recognise high risks for readmission in order to ensure a better monitoring and treating psychiatric patients with co-occurring physical disorders.
Acknowledgements
We are thankful for the work performed by our European colleagues during the literature search process. Comprehensive literature searches in the electronic bibliographic databases were performed by National Institute for Health and Welfare (Finland). We would like to acknowledge the contribution of Raluca Sfetcu (RS) (National School of Public Health, Management and Professional Development, Romania), Valeria Donisi (VD) (The University of Verona, Italy), Federico Tedeschi (The University of Verona, Italy), Eva Lassemo (EL) (SINTEF, Health Research, Norway), Johanna Cresswell-Smith (National Institute for Health and Welfare, Finland), Florian Endel (IMEHPS Research, Austria) and Heinz Katschnig (IMEHPS Research, Austria) in assistance during the process of records identification, screening of articles for inclusion in the study and assessing of eligibility. In addition, we thank Urška Smrke (Research Centre of the Slovenian Academy of Sciences and Arts, Slovenia) for her technical assistance in the preparation of this manuscript.
Funding
This work was conducted as part of the study "The Comparative Effectiveness Research on Psychiatric Hospitalisation by Record Linkage of Large Administrative Data Sets (CEPHOS-LINK)". This project has received funding from the European Union's Seventh framework Programme for research, technological development and demonstration under grant agreement No 603264.
Availability of data and materials
All data generated or analysed during this study are included in this published article and its supplementary information files.
Authors' contributions
LŠ participated in selection of studies to be included, assessed studies in full text for eligibility, participated in the design of the literature review and helped to draft the manuscript. MZD participated in selection of studies to be included, assessed studies in full text for eligibility and helped to draft the manuscript. KW participated in the design of the literature review and helped to draft the manuscript. PH participated in the design of the literature review and helped to draft the manuscript. All authors read and approved the final manuscript.
Competing interests
The authors declare that they have no competing interests.
Consent to publish
Not applicable.
Ethics approval and consent to participate
Not applicable.
Role of the funding source
The sponsor of the study had no role in study design, data collection, analysis, interpretation, or writing of the report. The corresponding author had full access to all data in the study and had final responsibility for the decision to submit for publication.
Open Access
This article is distributed under the terms of the Creative Commons Attribution 4.0 International License (
http://​creativecommons.​org/​licenses/​by/​4.​0/​
), which permits unrestricted use, distribution, and reproduction in any medium, provided you give appropriate credit to the original author(s) and the source, provide a link to the Creative Commons license, and indicate if changes were made. The Creative Commons Public Domain Dedication waiver (
http://​creativecommons.​org/​publicdomain/​zero/​1.​0/​
) applies to the data made available in this article, unless otherwise stated.