01.12.2018 | Research article | Ausgabe 1/2018 Open Access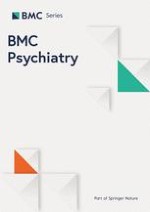 Psychoactive substance use among first-year students in a Botswana University: pattern and demographic correlates
Zeitschrift:
Autoren:

Anthony A. Olashore, Olorunfemi Ogunwobi, Eden Totego, Philip R. Opondo
Background
Methods
The study was a cross-sectional descriptive study which assessed substance use among full-time first-year students of a tertiary institution in Botswana. The minimum sample size required was 373, but the research instruments were administered to 410 students based on the calculated minimum sample size with an additional 10% allowance for non-response.
The sampling method and procedure for distribution of questionnaires involved a multi-stage sampling technique (i.e., selection done in stages from faculties through departments until the final sampling units were arrived at). In the first stage, five faculties out of the existing seven faculties were selected by simple random technique (balloting). In the second stage, eight departments were randomly selected from 5 faculties, with one department each from two faculties and two from the remaining three selected faculties which have more departments. In the third stage, about 51 respondents were selected from first-year students in each of the preselected departments.
This study was conducted after obtaining ethical approval from the University of Botswana Research and Ethical Review Committee. The approval to embark on the study was given based on the assurance that the name of the study site (institution) would not be used in the publication. A written informed consent was also obtained from everyone who agreed to participate in the study.
Two research instruments were used for the present study. The first consisted of a modified version of the 37 item
World Health Organization (WHO) drug questionnaire
. The WHO developed the prototype in conjunction with the United Nations Division of Narcotics; the International Narcotics Control Board and the International Council on Alcohol and Addictions. It was designed to aid in epidemiological data collection on drug abuse across different geographical regions of the world, and it is recommended for use among students and other populations. Items in the questionnaire consist of different types of psychoactive/illicit substances, such as Cannabis, cocaine, hallucinogens, opioids, and sedatives. Specific examples relevant to this environment were given for the classes of drugs for simplicity. For example, drugs such as methylphenidate (Ritalin), khat, and crystal-meth were cited in the case of amphetamine-type stimulants (ATS). Participants were also asked to include other forms of drugs not listed in the examples. It measures the lifetime, 12-month and current use (i.e., in the last 30 days) of these psychoactive substances. It also consists of relevant questions on the socio-demographic characteristics of the respondents such as age, religious participation, ethnicity, position in the family, parents' marital status, parents' level of education and occupation. Religious participation was measured by frequency of attendance of religious activities, where a subjective response of "never" or "rarely" were grouped as poor participation and "regularly" as good participation. A fictional drug 'maladrine' was added to the list of psychoactive substances. Those who agreed to have taken this fictional substance were excluded from further analysis to reduce the bias of over-reporting.
The second instrument comprised of the
12-item General Health Questionnaire (GHQ − 12
), was used to assess the presence of psychological distress in the students. The GHQ-12 is a 12 item screening device for identifying minor psychiatric disorders in the general population and is suitable for adolescents and young adults. It has been found to have good internal consistency across many cultures as reflected by Cronbach's alpha range from 0.82–0.89 in regions as diverse as Africa, Asia, Europe and South-America [
15
–
17
]. Each question has four possible responses; the respondent was asked to choose only one response which best fits how he/she felt recently. The first two responses were scored "0" while the last two were scored "1" each. A score of 1 on each item was considered positive and a score of 0, negative. Positive scores were indicative of psychological distress. The cut-off of 3 was derived from the calculated GHQ mean score; hence, a score of 3 or more was used in this study to indicate psychological distress as in a previous study in a similar setting [
4
].
Data Analysis was done using the Statistical Package for Social Sciences (SPSS for Windows), Version 16. Frequency tables were employed for descriptive statistics such as the socio-demographic variables and prevalence of drug use. Cross-tabulations were done to show the prevalence of substance use by gender, and the relationships between substance use and GHQ score. A bivariate analysis was performed to explore the relationship between identified socio-demographics and current use of any substance. To further explore this relationship, the significant variables on bivariate analysis were entered into a binary logistic regression, with current use of any substance as the dependent variable. Fishers Exact Test (FET) was used where applicable. The level of statistical significance for all tests was set at
p
 < 0.05.
Results
Discussion
Conclusions
There is evidence that the use of psychoactive substances is a problem in the undergraduate population in Botswana. The most commonly used psychoactive substance was alcohol as elsewhere, but the government 30% tax policy on alcoholic beverages may have contributed to the relatively lower rate in the current study. There is a high rate of the early debut of inhalants, tobacco, and alcohol, which is possibly driven by their availability to pre-adolescents mainly. Poor participation in religious activities was positively correlated with substance use while not having a friend who uses drugs was negatively correlated. The role of religious participation in addressing drug abuse on campus should be further explored.
Recommendations
This study has demonstrated that there is a significant problem of drug use amongst youths in Botswana and it suggests a need for urgent action to reverse the trend. Proper orientation package should be designed for fresh students to enable them to adjust and adapt to the new stage of life very easily. School health policies should be adjusted to include programmes targeted towards drug education and counseling. Participation in religious activities appears to plays an important role in inhibiting the use of a psychoactive substance. Therefore, a conducive environment which encourages religious activities, and other adaptive ways of relieving stress should be encouraged in the university community.
Limitations and strengths
The study was conducted in one tertiary institution and may not be generalizable to the entire adolescent population of Botswana, particularly in the context of relatively low university enrolment. It was also cross-sectional descriptive and may not be able to determine causality of any of its findings. It is, however, the first to look at substance use generally and not a specific or few substances. It also attempted to see a relationship between substance use and the associated problems of psychological distress.
Future research
It will be necessary to conduct a similar study in the general youth population to see how the rates in this group compare with the general youth population. It will be helpful to assess the relationships between substance use and other associated problems like criminal offending and academic performance within this group and other similar groups. The role of religious participation in addressing drug abuse on campus should be further explored. There is also a need to conduct a prospective study on drug users particularly those with a lower age of debut to assess the relationship of age of debut with outcomes.
Acknowledgements
Special thanks to the students who participated in the study and all the staff who assisted in data collection.
Availability of data and materials
The datasets used and analyzed during the current study are available from the corresponding author on reasonable request.
Ethics approval and consent to participate
Ethical approval was obtained from the University of Botswana ethical committee (UBR/RES/IRB/1628). The purpose of the study was thoroughly explained to every eligible participant, and a written informed consent was obtained from everyone who agreed to participate in the study.
Consent for publication
Not applicable
Competing interests
The authors declare that they have no competing interests.
Publisher's Note
Springer Nature remains neutral with regard to jurisdictional claims in published maps and institutional affiliations.
Open Access
This article is distributed under the terms of the Creative Commons Attribution 4.0 International License (
http://​creativecommons.​org/​licenses/​by/​4.​0/​
), which permits unrestricted use, distribution, and reproduction in any medium, provided you give appropriate credit to the original author(s) and the source, provide a link to the Creative Commons license, and indicate if changes were made. The Creative Commons Public Domain Dedication waiver (
http://​creativecommons.​org/​publicdomain/​zero/​1.​0/​
) applies to the data made available in this article, unless otherwise stated.