26.02.2016 | Review | Ausgabe 5/2016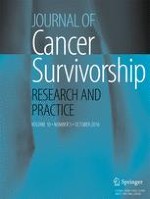 Psychosocial outcomes and interventions among cancer survivors diagnosed during adolescence and young adulthood (AYA): a systematic review
Zeitschrift:
Autoren:

Marie Barnett, Glynnis McDonnell, Antonio DeRosa, Tammy Schuler, Errol Philip, Lisa Peterson, Kaitlin Touza, Sabrina Jhanwar, Thomas M. Atkinson, Jennifer S. Ford
Abstract
Purpose
A cancer diagnosis during adolescence or young adulthood (AYA; defined as ages 15–39) generates unique medical and psychosocial needs as developmental milestones are simultaneously impacted. Past research highlights that AYAs' experiences and psychosocial outcomes are different, and more research and attention is needed. We aimed to identify and synthesize literature regarding psychosocial outcomes, unique needs, and existing psychosocial interventions pertaining to individuals diagnosed with cancer exclusively during AYA, and to highlight areas for future research.
Methods
A systematic literature search was conducted using MEDLINE (via PubMed), EMBASE, Cochrane, Web of Science, and PsycINFO (via OVID). Grey literature was searched using key term variations and combinations. Overall, 15,301 records were assessed by two independent reviewers, with 38 studies meeting inclusion criteria.
Results
Data synthesis of the 38 articles was organized by four main themes based on quality of life and survivorship: physical well-being (7 studies), psychological well-being (8 studies), social well-being (9 studies), and survivorship care (14 studies). The paucity of studies for such broad inclusion criteria highlights that this population is often combined or subsumed under other age groups, missing needs unique to these AYAs.
Conclusions
AYA cancer survivors' experiences are nuanced, with interacting variables contributing to post-treatment outcomes. AYAs require age-appropriate and flexible care, informational needs and treatment-related education that foster autonomy for long-term survivorship, as well as improved follow-up care and psychological outcomes.
Implications for Cancer Survivors
By incorporating these findings into practice, the informational and unmet needs of AYAs can be addressed effectively. Education and programming is lacking specific and general subject matter specific to AYAs, incorporating ranging needs at different treatment stages.