01.12.2017 | Research | Ausgabe 1/2017 Open Access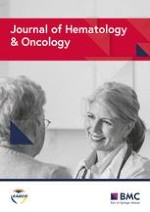 Pterostilbene prevents AKT-ERK axis-mediated polymerization of surface fibronectin on suspended lung cancer cells independently of apoptosis and suppresses metastasis
Zeitschrift:
Autoren:

Ying-Jan Wang, Jing-Fang Lin, Li-Hsin Cheng, Wen-Tsan Chang, Ying-Hsien Kao, Ming-Min Chang, Bour-Jr Wang, Hung-Chi Cheng
Wichtige Hinweise
Electronic supplementary material
The online version of this article (doi:
10.​1186/​s13045-017-0441-z
) contains supplementary material, which is available to authorized users.
Abstract
Background
Polymeric fibronectin (polyFN) assembled on suspended breast cancer cells is required for metastasis. Conceivably, drugs that target such polyFN may fight against cancer metastasis. While stilbene analogs trigger pro-apoptotic effect on attached cancer cells, whether they prevent polyFN assembly and metastasis of suspended cancer cells via an apoptosis-independent manner remains unexplored.
Methods
We depleted suspended Lewis lung carcinoma (LLC) cells of polyFN by silencing the endogenous FN expression or pterostilbene (PS) to examine whether metastasis of lung cancer cells could thus be suppressed. We investigated whether PS regulates AKT-ERK signaling axis to suppress polyFN assembly in suspended LLC cells independently of apoptosis. We tested the therapeutic effects of orally administered PS against cancer metastasis.
Results
Both FN-silencing and PS among the three stilbenoids indeed significantly reduced polyFN assembly and lung metastasis of suspended LLC cells in an apoptosis-independent manner. Mechanistically, PS-induced AKT phosphorylation (pAKT) and suppressed ERK phosphorylation (pERK) in suspended LLC cells, whereas pretreatment with a PI3K inhibitor, LY294002, effectively reduced pAKT, rescued pERK, and consequently reversed the PS-suppressed polyFN assembly on LLC cells; these pretreatment effects were then overturned by the ERK inhibitor U0126. Indeed, PS-suppressed lung metastasis was counteracted by LY294002, which was further overruled with U0126. Finally, we found that PS, when orally administered in experimental metastasis assays, both significantly prevented lung colonization and metastasis of LLC cells and reduced the already established tumor growth in the mouse lungs.
Conclusions
PS suppressed AKT/ERK-regulated polyFN assembly on suspended LLC cells and pulmonary metastasis. PS possesses potency in both preventing and treating lung metastasis of lung cancer cells in apoptosis-independent and apoptosis-dependent manners, respectively.