28.11.2016 | Cornea | Ausgabe 3/2017 Open Access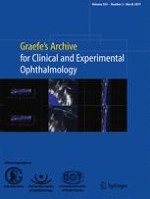 Pterygium surgery using the principle of contact inhibition: results of 13 years' experience
Autoren:

Tsutomu Hara, Takako Hashimoto, Takeshi Hara
Wichtige Hinweise
Electronic supplementary material
The online version of this article (doi:
10.​1007/​s00417-016-3558-9
) contains supplementary material, which is available to authorized users.
Abstract
Purpose
To report a technique to prevent pterygium recurrence using the principle of contact inhibition.
Methods
Two hundred and fifteen patients (232 eyes; average age, 64.1 years) with primary pterygia who underwent pterygium surgery at the Hara Eye Hospital between 1999 and 2012. We retrospectively evaluated the patients who underwent the following procedure to prevent pterygium recurrence. The surface conjunctiva on the pterygium body was not removed. After removing the pterygium body, by placing a narrow pedicle autoconjunctival flap along the corneal limbus and tying it tightly to the front area of the residual conjunctiva, there is no room for the active residual tissue to proliferate, thus preventing a recurrence by contact inhibition. The key factor is conjunctival suturing, which establishes face-to-face contact of both areas of cut conjunctival tissue. Mitomycin C is applied locally for 3 min intraoperatively and 5 days postoperatively. The main outcome measure was the prevention of pterygium recurrence using this technique.
Results
By the end of the average follow-up of 5 years 4 months, three eyes (1.3%) had a recurrence. Among the 232 eyes, 23 eyes had large pterygia extending to the pupillary area. Using the surgical technique, there were no recurrences. No specific characteristic of the recurrence was found in association with the eye, sex, and preoperative grade.
Conclusions
This surgery has three relevant features: (1) reconfirmation of the effect of contact inhibition, (2) the anatomic structure of the conjunctival sac scarcely changes postoperatively, because the surface conjunctiva of the pterygium body is not removed, and (3) a low recurrence rate.