01.12.2016 | Commentary | Ausgabe 1/2015 Open Access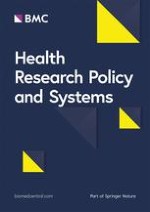 Public/community engagement in health research with men who have sex with men in sub-Saharan Africa: challenges and opportunities
Zeitschrift:
Autoren:

Sassy Molyneux, Salla Sariola, Dan Allman, Maartje Dijkstra, Evans Gichuru, Susan Graham, Dorcas Kamuya, Gloria Gakii, Brian Kayemba, Bernadette Kombo, Allan Maleche, Jessie Mbwambo, Vicki Marsh, Murugi Micheni, Noni Mumba, Michael Parker, Jasmine Shio, Clarence Yah, Elise van der Elst, Eduard Sanders
Wichtige Hinweise
Competing interests
The authors declare that they have no competing interests.
Authors' contributions
SM and ES conceived of and successfully achieved funding for this meeting. SM and SS write the first draft of the paper and SM, ES, SS and EV organised the meeting, and the ideas shared by all authors at the meeting. All authors contributed to a series of drafts of this paper, and all read and approved the final manuscript.
Abstract
Background
Community engagement, incorporating elements of the broader concepts of public and stakeholder engagement, is increasingly promoted globally, including for health research conducted in developing countries. In sub-Saharan Africa, community engagement needs and challenges are arguably intensified for studies involving gay, bisexual and other men who have sex with men, where male same-sex sexual interactions are often highly stigmatised and even illegal. This paper contextualises, describes and interprets the discussions and outcomes of an international meeting held at the Kenya Medical Research Institute-Wellcome Trust in Kilifi, Kenya, in November 2013, to critically examine the experiences with community engagement for studies involving men who have sex with men.
Discussion
We discuss the ethically charged nature of the language used for men who have sex with men, and of working with 'representatives' of these communities, as well as the complementarity and tensions between a broadly public health approach to community engagement, and a more rights based approach. We highlight the importance of researchers carefully considering which communities to engage with, and the goals, activities, and indicators of success and potential challenges for each. We suggest that, given the unintended harms that can emerge from community engagement (including through labelling, breaches in confidentiality, increased visibility and stigma, and threats to safety), representatives of same-sex populations should be consulted from the earliest possible stage, and that engagement activities should be continuously revised in response to unfolding realities. Engagement should also include less vocal and visible men who have sex with men, and members of other communities with influence on the research, and on research participants and their families and friends. Broader ethics support, advice and research into studies involving men who have sex with men is needed to ensure that ethical challenges – including but not limited to those related to community engagement – are identified and addressed.
Summary
Underlying challenges and dilemmas linked to stigma and discrimination of men who have sex with men in Africa raise special responsibilities for researchers. Community engagement is an important way of identifying responses to these challenges and responsibilities but itself presents important ethical challenges.