01.12.2018 | Research article | Ausgabe 1/2018 Open Access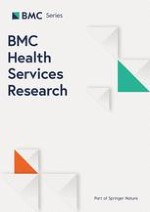 Public health opportunities and challenges in the provision of partner notification services: the New England experience
Zeitschrift:
Autoren:

Sarah Magaziner, Madeline C. Montgomery, Thomas Bertrand, Daniel Daltry, Heidi Jenkins, Brenda Kendall, Lauren Molotnikov, Lindsay Pierce, Emer Smith, Lynn Sosa, Jacob J. van den Berg, Theodore Marak, Don Operario, Philip A. Chan
Abstract
Background
Partner notification services (PNS) are recommended by the Centers for Disease Control and Prevention as a public health intervention for addressing the spread of HIV and other sexually transmitted diseases (STDs). Barriers and facilitators to the partner notification process from a public health perspective have not been well described.
Methods
In 2015, a coalition of New England public health STD directors and investigators formed to address the increasing STD prevalence across the region (Connecticut, Maine, Massachusetts, New Hampshire, Rhode Island, and Vermont) and to promote communication between state STD programs. To evaluate barriers and facilitators of PNS programs, a survey was administered to representatives from each state to describe PNS processes and approaches.
Results
Of the six PNS programs, Connecticut, Maine, Massachusetts, Vermont, and New Hampshire had combined HIV and STD PNS programs; Rhode Island's programs were integrated but employed separate disease intervention specialists (DIS). All states performed PNS for HIV and syphilis. Maine, New Hampshire and Vermont performed services for all gonorrhea cases. Rhode Island, Connecticut, and Massachusetts performed limited partner notification for gonorrhea due to lack of resources. None of the six states routinely provided services for chlamydia, though Maine and Vermont did so for high-priority populations such as HIV co-infected or pregnant individuals. Across all programs, clients received risk reduction counseling and general STD education as a component of PNS, in addition to referrals for HIV/STD care at locations ranging from Planned Parenthood to community- or hospital-based clinics. Notable barriers to successful partner notification across all states included anonymous partners and index cases who did not feel comfortable sharing partners' names with DIS. Other common barriers included insufficient staff, inability of DIS to identify and contact partners, and index cases declining to speak with DIS staff.
Conclusions
In New England, state health departments use different strategies to implement PNS programs and referral to STD care. Despite this, similar challenges exist across settings, including difficulty with anonymous partners and limited state resources.