01.12.2016 | Research | Ausgabe 1/2016 Open Access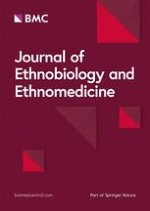 Public perceptions of snakes and snakebite management: implications for conservation and human health in southern Nepal
Zeitschrift:
Autoren:

Deb Prasad Pandey, Gita Subedi Pandey, Kamal Devkota, Matt Goode
Wichtige Hinweise
Competing interests
The authors declare that they have no competing interests.
Authors' contributions
DPP conceived of the study, conducted surveys, analysed data, and drafted the manuscript, GSP prepared and pre-tested questionnaires and contributed to data collection, entry, crosscheck of data entry errors, KD contributed in pre-test of questionnaires, data collection, and data entry, MG critically reviewed the article. All authors read and approved the final manuscript.
Authors' information
1PhD, Department of Herpetology, Senckenberg Research Institute and Natural History Museum, Senckenberg Biodiversity and Climate Research Centre, Goethe University, Frankfurt, Germany; DPP conducts snake and snakebite research in Nepal.
2MA (Sociology), GSP involved in several sociological research in Institute of Social and Environmental Research, Fulbari, Chitwan, Nepal.
3MSc (Zoology), Central Department of Zoology, Tribhuvan University, Kirtipur, Nepal; KD conducts snake and snakebite research in southwestern Nepal.
4PhD, Research scientist, Wildlife Conservation and Management, School of Natural Resources and Environment, 325 Biosciences East, University of Arizona, Tucson, Arizona, USA.
Abstract
Background
Venomous snakebite and its effects are a source of fear for people living in southern Nepal. As a result, people have developed a negative attitude towards snakes, which can lead to human-snake conflicts that result in killing of snakes. Attempting to kill snakes increases the risk of snakebite, and actual killing of snakes contributes to loss of biodiversity. Currently, snake populations in southern Nepal are thought to be declining, but more research is needed to evaluate the conservation status of snakes. Therefore, we assessed attitudes, knowledge, and awareness of snakes and snakebite by Chitwan National Park's (CNP) buffer zone (BZ) inhabitants in an effort to better understand challenges to snake conservation and snakebite management. The results of this study have the potential to promote biodiversity conservation and increase human health in southern Nepal and beyond.
Methods
We carried out face-to-face interviews of 150 randomly selected CNP BZ inhabitants, adopting a cross-sectional mixed research design and structured and semi-structured questionnaires from January–February 2013.
Results
Results indicated that 43 % of respondents disliked snakes, 49 % would exterminate all venomous snakes, and 86 % feared snakes. Farmers were the most negative and teachers were the most ambivalent towards snakes. Respondents were generally unable to identify different snake species, and were almost completely unaware of the need of conserve snakes and how to prevent snakebites. Belief in a snake god, and the ability of snakes to absorb poisonous gases from the atmosphere were among many superstitions that appeared to predispose negativity towards snakes of BZ residents.
Conclusion
People with predisposed negativity towards snakes were not proponents of snake conservation. Fear, negativity, ambivalence towards, and ignorance about, snakes and the need for snake conservation were strong indicators of the propensity to harm or kill snakes. It seems that if wanton killing of snakes continues, local snake populations will decline, and rare and endangered snake species may even become locally extirpated. Moreover, inappropriate perception and knowledge about snakes and snakebites may put BZ people at increased risk of venomous snakebite. Therefore, intensive, pragmatic educational efforts focused on natural history and ecology of snakes and prevention of snakebite should be undertaken in communities and at schools and universities.